Plot allotment to Delhi resident: Man meets Greater Noida officials as directed by consumer forum
Published on Jan 19, 2023 11:48 PM IST
The matter pertains to the non-compliance of an order passed by the National Consumer Disputes Redressal Commission on May 2, 2014, on a plea by Delhi resident Mahesh Mitra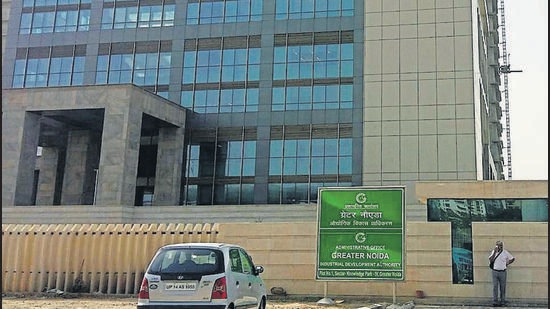 Armed with a state consumer dispute redressal commission order, directing him to meet the Greater Noida authority officials to seek redressal of his grievance over the non-allotment of an industrial plot in the year 2000, petitioner Mahesh Mitra met chief executive officer Ritu Maheshwari and other officials on Thursday.
The matter pertains to the non-compliance of an order passed by the National Consumer Disputes Redressal Commission on May 2, 2014, on a plea by Delhi resident Mitra, who had failed to get an industrial plot allotted to him, allegedly due to the negligence of authority officials.
The Uttar Pradesh consumer dispute redressal commission on January 17, 2023, directed the Greater Noida authority to ensure "100% compliance" of earlier orders and address the grievance of the complainant, who missed out on the allotment of an industrial plot in 2000, and has been suffering for about two decades since then due to the "negligence" of authority officials.
It further ordered that Mitra must approach the Greater Noida authority chief executive officer on January 19, 2023, to get his issue resolved and a plot allotted in his name.
Mitra reached at the Greater Noida authority's sector Knowledge Park-4 office at 3pm in compliance to the state commission order seeking to get the plot allotment in his name. Maheshwari along with other officials discussed the matter for about half an hour before ending the meeting.
"I do not have hope from the Greater Noida authority CEO and other officials that they will comply with the state commission order as their attitude towards me was not sympathetic in the meeting. As per commission's order, I submitted my application and relevant documents, but officials were rude and I do not think they have any regards towards state consumer commission's order. The Greater Noida authority officials have made me suffer for the past 22 years and they continue to do so," said Mitra after the meeting.
The Greater Noida authority said they will take an appropriate decision in the matter.
"There was a meeting with applicant. Now the authority will take a decision as per the rules and inform the commission. The allegations made by applicant are baseless," said Santosh Kumar, officer on special duty, Greater Noida authority.
The state commission's January 17 order came in response to a "recall plea" filed by the Greater Noida authority against an order by the Gautam Budh Nagar district dispute redressal commission on January 7, 2023, imposing a fine of ₹2,000 and one-month jail term on Noida authority chief executive officer, a post currently held by Ritu Maheshwari. The CEO was given 15 days to comply with the forum's directions; failing which the forum will direct the city police commissioner to implement the arrest order. However state commission on January 17 stopped coercive action against CEO.