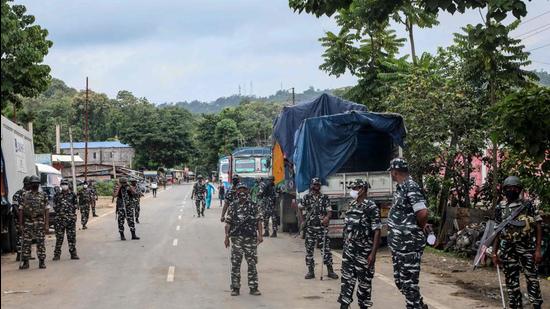 Assam, Mizoram to withdraw forces; travel advisory dropped
Ministers of both states said there will be more discussions at a higher level to draw a permanent solution to the border dispute issue.
By Biswa Kalyan Purkayastha
, Hindustan Times, Aizawl
UPDATED ON AUG 06, 2021 01:55 AM IST
Assam and Mizoram agreed on Thursday to withdraw forces from all disputed border areas and work towards lasting peace in the first meeting between the two states since an unprecedented gunbattle last week killed six policemen and injured 41 others.
After the meeting, Assam withdrew a travel advisory issued on July 29 asking its citizens to avoid its neighbouring state. Mizoram condoled the death of the six Assam Police personnel in the July 26 showdown.
The meeting came roughly a week after the Centre brokered an interim agreement, under which the states agreed to withdraw their police forces and allow central paramilitary troops to be deployed at the four-km disputed stretch till a permanent solution is found.
"Representatives of governments of Assam and Mizoram agree to take all necessary measures to promote, preserve and maintain peace and harmony amongst the people living in Assam and Mizoram, particularly in the border areas," a joint statement issued by both governments said.
The meeting, held at Aizawl Club, was attended by Assam urban developmentminister Ashok Singhal, border protection minister Atul Bora and home secretary GD Tripathi. From Mizoram's side, home minister Lalchamliana, revenue minister Lalruatkimaand and home secretary Vanlalngaihsaka were present.
"Both the state governments agree to maintain peace in the interstate border areas and welcomed deployment on neutral force by the government of India in this regard. For this purpose, both the states shall not send their respective forest and police forces for patrolling, domination, enforcement or for fresh deployment to any of the areas where confrontation and conflict has taken place between the police forces of the two states during recent times," the joint statement added. This would include all areas along the Assam - Mizoram border.
Ministers of both states said there will be more discussions at a higher level to draw a permanent solution to the border dispute issue. Chief ministers of both the states may meet in the near future, and top officials from bordering districts will discuss the issue on a monthly basis, they added.
"Considering the present situation on the border, we initiated peace talks between Assam and Mizoram. This is just the beginning, we need to work more on this issue to draw a permanent solution...Assam will withdraw the travel advisory," said Bora after the meeting.
But there was no concrete solution on border demarcation between the two states or ongoing economic blockade of Mizoram by some Assamese groups. Mizoram has alleged that stocks of medical and essential supplies are dwindling due to the blockade of an arterial highway running through Assam.
Assam districts of Cachar, Karimganj and Hailakandi share a 164.6km-long border with Mizoram's Aizawl, Kolasib and Mamit districts. The decades-old border dispute stems primarily from a difference in perception. Mizoram goes by an 1875 border agreement but Assam follows a 1933 demarcation.
The police forces of the two states fought a pitched gun battle at a disputed border in southern Assam on July 26, in which six Assam policemen died. Assam claimed Mizoram police opened fire on its forces who objected to a road being constructed by Mizoram on a patch of forested land it claims. Mizoram claimed the land belongs to it.
The BJP rules Assam and the Mizo National Front, a part of the BJP-led North East Democratic Alliance, is in power in Mizoram. The tensions abated last week after central intervention.
Tripathi read the joint statement after the meeting that welcomed steps taken the Union home ministry.
"The governments of Assam and Mizoram welcome and agree to take forward the initiatives taken by the ministry of home affairs, government of India and hon'ble chief ministers of Assam and Mizoram to remove tensions prevailing around the interstate borders and to find lasting solutions to the disputes through discussions," said the statement.
The ministers avoided questions on the demarcation of the interstate border and the blockade. When the journalists asked Lalchamliana questions on the subject, Bora intervened and said, "We are trying to bring peace, do not ask questions which can hamper this initiative. We have just started a discussion which is going to have several layers."
On the killing of police personnel, he said, "Forget the past, we are heading towards a new phase of border peace."
Close