BSNL employees in Ludhiana continue to protest as GM refuses to budge
Aug 19, 2021 12:59 AM IST
While the protesters alleged biased and untimely transfer of staffers, the general manager said the transfer orders were issued in the interest of service efficiency
The protest by the BSNL employees, including its retired staff, over the alleged biased and untimely transfer of staffers continued on Wednesday as the BSNL general manager refused to reconsider his orders.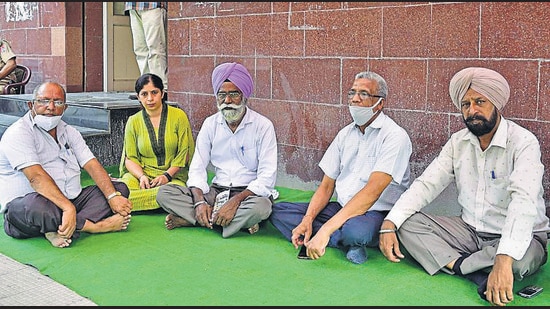 The protest, led by the BSNL Employees' Union, was staged outside the BSNL building.
On Tuesday, around 20 employees sat on the floor of the BSNL general manager's office to express their dissent.
The dispute according to Avtar Singh, district secretary of the union, erupted after a female employee working at the cash counter was transferred to the customer care centre and vice versa.
Singh had accused the BSNL general manager of biased transfers and favouring his loyal employees.
"These orders were issued in the interest of the service and we are not going to reverse them. These transfers were made according to the guidelines of BSNL and these were necessary to bring efficiency to the work here. Three transfer orders were released out of which two orders have been successfully executed after mutual consent with the protesting employees. Only a female employee is unhappy about her being transferred when she was transferred to another desk in the same hall where she used to sit," claimed Phunchok Dorjey, general manager, BSNL, Ludhiana.
The GM further said that departmental action would be taken against the female employees protesting against the department. Meanwhile, Shweta Malhotra, who works in the clerical department of the BSNL and was protesting against her transfer, said she was deliberately being targeted as she is an active member of the union.