Budget 2023: Major boost for Gujarat's GIFT City as govt ends dual regulation
Feb 02, 2023 08:53 AM IST
The GIFT-IFSC has been a path breaking financial reform underpinning India's increasingly liberal outlook towards capital account convertibility, stated the Economic Survey released on January 31
The Union Budget 2023 delegated powers under the special economic zone (SEZ) Act to International Financial Services Centres Authority (IFSCA) to avoid dual regulation.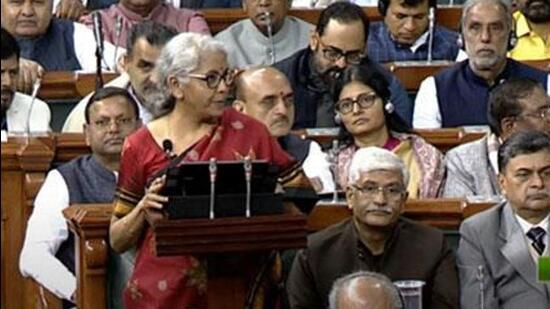 The announcement by union finance minister Nirmala Sitharaman on Wednesday has given a major boost to India's plans for establishing an International Finance Service Centre (IFSC) at Gujarat International Finance Tec-City (GIFT City) in Gandhinagar that could rival the ones in Dubai, Singapore and Hong Kong.
Hailed as one of the pet projects of Prime Minister Narendra Modi, it was in June 2007, when he was Gujarat chief minister, that he first proposed GIFT City project. It houses India's first and only IFSC.
The budget also set up a single-window IT system for registration and approval from IFSCA, SEZ authorities, GSTN, Reserve Bank of India (RBI), Securities and Exchange Board of India (SEBI) and Insurance Regulatory Development Authority (IRDA).
Also Read: IFSC will make Gujarat a finance hub: Jaitley
"The Union Budget clearly emphasises the growth aspirations of our nation and the vital role of GIFT City in India's growth story. The policy support laid out by the Union government will certainly act as a catalyst in expediting the growth of GIFT City thus making it a vibrant global financial hub for domestic and international entities," said Tapan Ray, MD and Group CEO, GIFT City.
The budget has also permitted acquisition financing by IFSC banking units of foreign banks. The offshore derivative instruments would also be recognised as valid contracts.
The finance minister on Wednesday proposed amending the IFSCA Act for statutory provisions for arbitration, ancillary services, and avoiding dual regulation under SEZ Act.
"The far-reaching measures announced in the budget will go a long way in strengthening the ease of doing business in IFSC at GIFT City. The establishment of an EXIM Bank subsidiary would encourage emerging sectors such as aircraft & ship financing activities in GIFT City. The setting-up of data embassies at GIFT City would facilitate digital continuity solutions for countries seeking such solutions," said Ray.
The GIFT-IFSC has been a path breaking financial reform underpinning India's increasingly liberal outlook towards capital account convertibility, stated the Economic Survey released on January 31.
India has a partially convertible capital account where the domestic currency can be converted to a foreign currency for limited purposes only. To internationalize rupee, capital account convertibility is required.
"Globally, International Financial Centres (IFCs) have assumed prominence in the financial services ecosystem primarily because they have contributed enormously to the growth of international financial transactions. These centres have played a pivotal role in accelerating the pace of financial globalisation. In common parlance, an IFC is a jurisdiction with a high concentration of financial institutions such as Banks, Stock Markets & related entities, Insurance firms, Fund Managers, FinTech firms, etc., which offer specialised financial services to non-residents and residents, in an environment that promotes financial innovation and facilitates cross border transactions," the report stated.
Recognizing the growing significance of IFSC, the Global Financial Centres Index, London Report (March 2022) put IFSC in GIFT City at the top, among 15 centres globally.
GIFT IFSC has more than 390 entities registered across a full spectrum of financial services, including Banks, Capital Markets, Insurance, FinTech, Aircraft Leasing, Bullion Exchange, among others.
"FY23 is a watershed year for IFSC. It marks a decade of India's maiden IFSC. The vision plan beyond 2022 revolves around elevating GIFT-IFSC to a virtuous self-sustaining trajectory towards becoming the nerve centre of new-age global financial services and activities... Within years of its establishment, GIFT-IFSC has become a prominent gateway for the flow of global capital into India," according to the economic survey report.