Corbett Tiger Reserve to train villagers as 'friends' of tigers and elephants
Jan 18, 2023 08:59 PM IST
The Corbett Tiger Reserve (CTR) administration said that they are going to nominate and train 'Bagh Mitra' (friends of tigers) and 'Hathi Mitra' (friends of elephants ) in the villages around CTR to check man-animal conflict
The Corbett Tiger Reserve (CTR) administration is mulling to train local villagers as 'Bagh Mitra' (friends of tigers) and 'Hathi Mitra' (friends of elephants ) to check man-animal conflict in the Corbett landscape, a senior official said on Wednesday.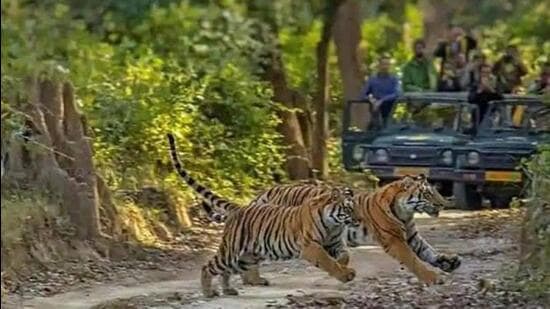 'Bagh Mitra' and 'Hathi Mitra' will not only monitor the movement of wild animals but also make other villagers aware of how to co-exist with wild animals.
"We are going to nominate and train 'Bagh Mitra' and 'Hathi Mitra' in the villages around CTR. Those villagers will be selected who have an interest in forest and wildlife on a voluntary basis. These will not only make villagers aware of the behaviour of the wild animals but also train them on how to coexist with the wild animals," said Dheeraj Pandey, director, CTR.
Man-animal conflict is regularly reported in the Corbett landscape. Five persons have lost their lives in eight months around CTR area in tiger attacks. Forest officials even launched a search to either tranquillise or cage the big cat. This exercise is not only time taking but costs a lot. Scores of forest personnel are engaged to keep an eye on the problematic big cat.
"These Mitras will be imparted training by our officials and wildlife experts through workshops, which will be held in the month of February and March. Once these Mitras are trained they will work in their respective villages. We are chalking out strategies and plan to launch Bagh Mitra and Hathi Mitra initiatives soon," Pandey said.
Bagh Mitra will be selected from Garjiya and Mohaan areas where tiger movement is frequent. Hathi Mitras will work in Dhela area where elephant movement is more, he added.
Pandey said, "We already have a voluntary village protection force but we want to strengthen the protection of both humans and wild animals with coexistence policy. We will create a social media platform so that these Mitras can share the information about the movement of the wild animals and the Quick response team (QRT) can swing into action immediately."
Vinod Papney, a Ramnagar-based social activist said, "Both humans and wild animals have the right to live on earth and sometimes these areas overlap. So we need to have people who understand this with a positive frame of mind. Against this backdrop, 'Bagh Mitras' and 'Hathi Mitras' will play a vital role in the protection of both humans and wild animals here".
Uttarakhand primarily reports man-leopard, man-tiger, man-elephant and man-monkey conflicts. Since the formation of the state in 2000, over 800 people have been killed in man-wildlife conflict. The aggression of elephants in Uttarakhand's Corbett landscape has been a major concern for wildlife officials here. Elephants regularly create ruckus in and around Haridwar, Nainital, US Nagar districts, leading to traffic interruptions and damage to the vehicles. Elephants also get killed due to electrocution and in train-hit incidents. Uttarakhand has over 2,000 elephants, according to the elephant census, with the state recording a 29.9% increase in elephant numbers since 2015.
Corbett Tiger Reserve (CTR) has the highest tiger density among India's 50 reserves, with a density of 14 tigers per 100 sq kms, followed by Kaziranga, Nagarhole and Orang tiger reserves. CTR has the highest tiger population- 231 in the Reserve and 266 using the Reserve- among all the 50 tiger reserves in the country.