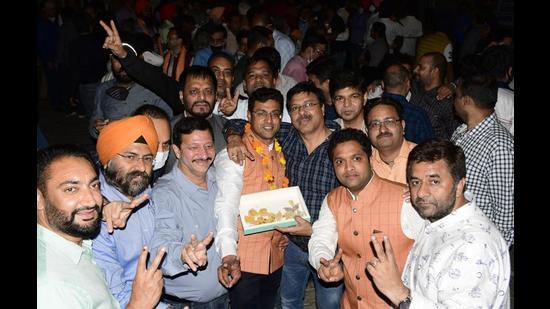 Lodhi Club polls: Thumping victory for Mahajan group
Nitin Mahajan outdid Dr Gaurav Sachdeva by 512 votes to become the general secretary of the club yet again
PUBLISHED ON MAR 08, 2021 12:25 AM IST
After three executive committee members were elected unopposed, the elections for the remaining seven posts of the Lodhi Club executive committee were held on Sunday. The voting was held on the club premises and the results were announced in the evening.
Two groups, namely the Mahajan group, led by former general secretary Nitin Mahajan, and the Sachdeva group, led by former vice-president Dr Gaurav Sachdeva, were fighting it out for the top posts at the club. The candidates of Mahajan group bagged six out seven posts.
Nitin Mahajan outdid Dr Gaurav Sachdeva by 512 votes to become the general secretary of the club yet again. The former got 1,171 votes while the latter got 658 votes.
Kawaljeet Singh Dang beat Jodhesh Gupta by 217 votes and became the vice-president.
Jagatvir Singh Bittu, who was in the fray for the bar secretary position, outdid Sachin Goyal by 333 votes.
Nishit Singhania (1084) defeated Dr Avinash Jindal (743) and became the mess secretary.
Ram Sharma beat Vibhor Garg by 448 votes for the post of sports secretary.
Dr Sarju Ralhan outdid Amrit Bhambari Manga by 455 votes to become the joint secretary.
A neck and neck race for the post of executive member resulted in CM Jindal beating Rajiv Gupta by a close margin of 24 votes.
Three members of the executive committee who had been elected unopposed include Munish Gupta as finance secretary, Mohanjit Kaur as cultural secretary, and Niti Gupta as lady executive member.
Earlier in the day, family members and supporters of all candidates could be seen trying their best to woo voters even as polling for the executive committee was taking place.
While strict Covid norms were adhered to inside the club, particularly in the polling booth area, a heavy rush was witnessed outside. Most of the people were standing in close proximity, not giving two hoots about the Covid guidelines.
The rush also led to a traffic jam which left many city residents stranded. Later the traffic police were deployed there to streamline the traffic flow.
Close