BJP files cases across Bihar against education minister's Ramcharitmanas remark
Jan 20, 2023 12:39 PM IST
BJP workers have filed petitions against education minister Chandra Shekhar in 30 districts and soon will have it in all the 38 districts
The Bharatiya Janata Party (BJP) has filed cases across Bihar against education minister Chandra Shekhar's remark that "the epic Ramcharitmanas promoted social discrimination and spread hatred in society".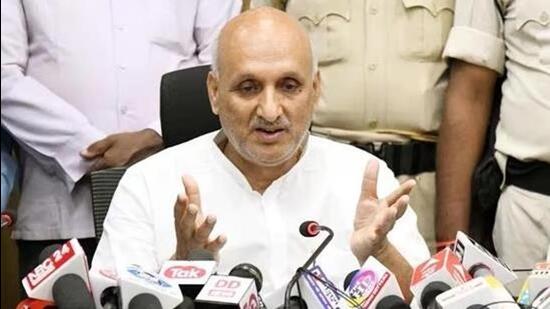 BJP leader and Rajya Sabha MP Sushil Kumar Modi on Friday said the party workers have filed petitions against the minister in 30 districts and soon will have it in all the 38 districts.
"The RJD (Rashtriya Janata Dal)'s efforts to use Chandra Shekhar's contemptuous remark for vote bank politics will backfire, as it cannot be allowed to play with the sentiments of Hindus," he added.
The BJP has circulated a model petition to all its districts units for filing the petition under Sections 153 (A, B), 295-A and 505 of the Indian Penal Code (IPC) against the minister, charging him with "deliberately making statements to fan communal tension by hurting the sentiments of a community for personal or political gains". The Mahila Morcha of the BJP has also been doing recitation of 'Sunderkand' in all the districts.
"The BJP has taken it very seriously as it was intentionally done in front of young students with the sole purpose of spreading misinformation to hurt the sentiments of majority Hindu community by selectively misinterpreting a verse from the holy scripture Ramcharitamanas, which inspires everyone to follow the impeccable character and ideals of Lord Ram, out of context. Despite protests, the minister did not apologise and instead got support from his party leaders," said senior advocate SD Sanjay.
The petition says that Chandra Shekhar did it under a well thought out conspiracy to divide the society and create disharmony among various communities by making controversial remarks about the epic 'Ramcharitmanas' to insult the Hindu community. "This appeared in all the TV channels and newspapers, besides social media," the petition says.
Bihar chief minister Nitish Kumar's Janata Dal (United), or JD(U), has also been critical of Chandra Shekhar and demanded action and an apology. Kumar called for respecting all religions and not demeaning them, days after Chandra Shekhar's remarks provoked outrage, while deputy CM Tejashwi Prasad Yadav attacked the BJP for doing 'Hindu-Muslim politics'.