Caste survey to begin in Bihar from Jan 7, first leg to focus on house numbering
Jan 06, 2023 05:52 AM IST
The state cabinet had given a go-ahead for a caste based survey, including gathering information of socio-economic status of households, on June 2 in 2022
Caste based survey in Bihar will begin form January 7 across all 38 districts and the first leg of the survey till January 21 will be dedicated for listing houses and brief information of households, officials in the general administration department (GAD) said.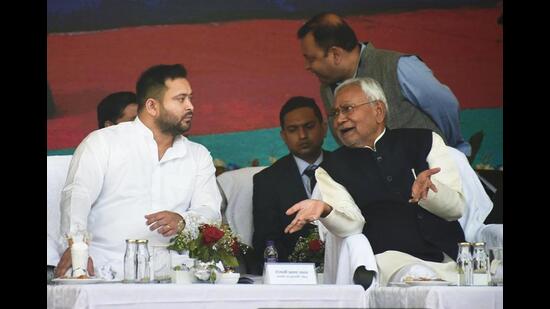 The survey will involve listing houses, preparation of location maps and uploading the information in the portals, officials said.
The state cabinet had given a go-ahead for a caste based survey, including gathering information of socio-economic status of households, on June 2 in 2022, a day after an all-party meeting was held on the issue.
The decision was taken months after the Centre ruled out such an exercise in the Census.
The ruling RJD and JD(U) have advocated the caste and socio-economic survey on the ground that the enumeration of different caste groups would help in better implementation of welfare schemes for the socially and economically disadvantaged groups.
"In the first leg, surveyors would number each household in urban and rural areas. Following this, all information would be uploaded in portals," said a senior official in the GAD familiar with the matter.
During the second leg of the survey, likely to start from March-April, surveyors will visit each household and gather information about the caste of family members, their socio-economic profile, exposure to welfare schemes, etc. "There would be around 26 columns in the survey in the second leg wherein the information collected would be quite detailed," said another official.
Number of personnel to be engaged
The survey would involve around 5.24 lakh surveyors and assistants, besides observers and senior officers. The enumerators would be mostly teachers, agriculture coordinators, rojgar sewaks, vikas mitras, clerks, MNREGA staff and anganwaadi sewikas while the assistants would be tola sewaks, Mamta and Asha workers, Jeevika didis and other staff from various agencies.
Survey coverage
The survey would cover an estimated population of 12.70 crore in an estimated 2.58 crore households in 38 districts, which have 534 blocks and 261 urban local bodies. The survey would be completed by May 31, 2023.