No need for population control law in India: Nitish Kumar
Anirban Guha RoyAnirban Guha Roy
Jan 29, 2023 06:02 PM IST
In his address, Kumar also stressed the need for larger opposition unity in the country and said talks will be held about forming a big platform of opposition parties after Congress's ongoing Bharat Jodo Yatra concludes
The country does not need a population control law as it has negative implications, said Nitish Kumar on Sunday and asserted that those advocating such a law were only indulging in 'foolish talk'.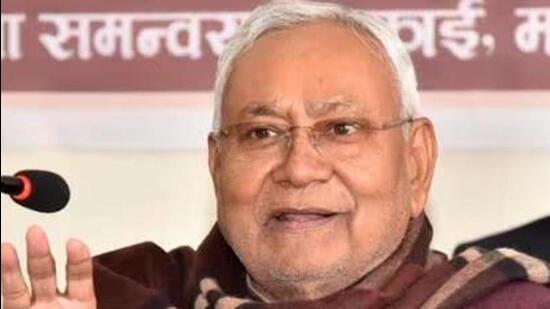 "Population control law should never be enacted. There is no need. Those advocating such legislation are indulging in foolish talk," the Bihar chief minister said while addressing an event at Bhabua in Kaimur district.
In his address, Kumar also stressed the need for larger opposition unity in the country and said talks will be held about forming a big platform of opposition parties after Congress's ongoing Bharat Jodo Yatra concludes.
"Once the Congress' own programme concludes, we will start talks on larger opposition unity. I surely feel we need all opposition parties should come together on a common platform," Kumar said while speaking to the reporters earlier on the sidelines of his ongoing Samadhan yatra.
Also Read: Himanta says women should become mothers at 'appropriate' age; activists hit out
Citing the failure of such in law in a huge and populous country such as China, the chief minister highlighted that the negative effect of population control law could be well understood by looking at China, where a one-child policy had its problems, and it prompted the country to encourage people to have two children. "Now China is promoting three child norm," he said.
Kumar stressed that the education of girls would go a long way in reducing the fertility rate and subsequently help in checking the population.
"In Bihar, the fertility rate was reduced to 2.6% from 4.6%. This is because girls are getting more education. In the next few years, it will reduce more to 2%," he said, adding that the education of women was the panacea for checking the population.
Speaking about the upcoming event in Hyderabad being organised by Telangana chief minister K Chandrashekhar Rao, Kumar said his party's national president Rajiv Ranjan Singh alias Lallan Singh and deputy chief minister Tejashwi Prasad Yadav would attend the function on February 17.
Also Read: SP names Shivpal Yadav, Maurya as national general secretaries
The public rally at Hyderabad after the inauguration of a new secretariat building is seen as another initiative by the Telangana CM to cobble anti-BJP forces ahead of the 2024 parliamentary polls.
Kumar also lauded the work of the women associated with the self-help groups. Significantly, the chief minister announced that Jeevika Didis- women associated with self-help groups operating under Bihar rural livelihood promotion society, would be able to enhance their income more in the coming days as the state government would create more opportunities for them to earn.