After solving crime cases, cops at this Pune police station unwind with music
Jan 15, 2023 10:37 PM IST
The songs are even video-recorded and uploaded online for wider dissemination amongst the general public
The 'karaoke' music system at the Cantonment police station has proved to be a boon for police officials to cut down stress and improve productivity. So much so that police officials and other staffers can be heard singing their favourite yesteryear numbers by Lata Mangeshkar, Kishore Kumar and Mohammed Rafi inside a small room at the back of the police station every evening. The hall has modern musical instruments including a karaoke system, high-quality speakers and a sound mixer to provide a holistic singing experience. The songs are even video-recorded and uploaded online for wider dissemination amongst the general public.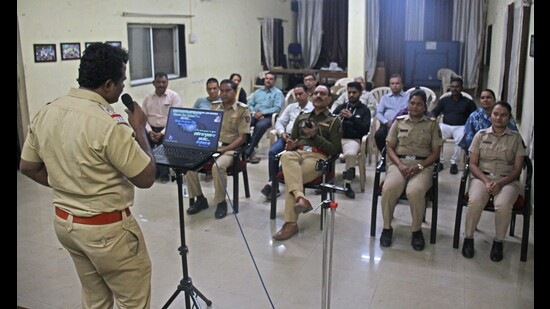 Cantonment police station in-charge Ashok Kadam, who has been instrumental in setting up the facility, said that it is the first such facility aimed at destressing worked-out and worn-out policemen on different strenuous duties. "The idea came to us when our men were completely stressed due to Covid-19 work and we were searching for alternatives to keep them in high spirits. At that time, we had invited Dr Santosh Borade, a music therapist who, during his three-hour-long lecture, advised and encouraged the staff to start singing to beat stress. Since then, there has been no looking back and that lecture proved to be a gamechanger in the life of our police station," Kadam said. As word spread, the management of a prominent Gurudwara donated high-end musical instruments including speakers, a karaoke system, mixers and mikes to the police station, Kadam added.
"It has been our observation and experience that the police station staff always worked under pressure of discharging duties such as security and law and order. We had to undergo a lot of stress and the music project helped us reduce stress, increasing bonding amongst ourselves, and improving public outreach," Kadam further said.
According to staffers, about 20 policemen have honed their singing skills and are regulars at the music room every day. The then police commissioner, Amitabh Gupta, joint commissioner (law and order) and other officials boosted their morale by encouraging the initiative.
Police sub-inspector Vinayak Gujar said, "Due to this new arrangement, the citizens consider us artistes and the public's perception of us has changed. It's my hobby to sing but it never took shape till the music room was set up. I am thankful to our senior inspector and all others who have contributed towards this initiative."
Rahisha Shaikh, a police head constable, said, "The entire work culture at the police station has changed with the introduction of the music room. We sing solo, duets, and other forms with our senior officials and colleagues which is a first-of-its-kind experience. We all become one for the cause of a beautiful rendition. Singing is a soothing experience, which is life changing and reduces stress. My work productivity has increased immensely due to this new facility."
Among other achievements listed by the police are the clarity with which the rank-and-file air their grievances and problems with the senior police inspector which in turn has led to early resolution of problems and boosting of overall performance.