Nat'l Institute of Hydrology to study floods in Western Maharashtra
Published on Jan 24, 2023 11:12 PM IST
The study assumes importance in the wake of concerns raised by activists in border areas of Kolhapur and Sangli about the proposal to raise the height of the Almatti dam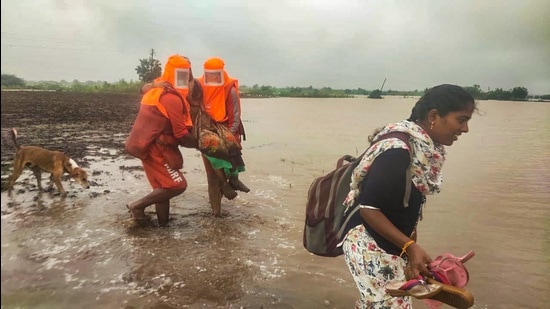 shrinivas.deshpande@htlive.com
PUNE: Water Resource Department of the Maharashtra government has appointed the National Institute of Hydrology at Roorkee to study the alleged impact of the Almatti dam backwater on floods in Maharashtra every monsoon. The study assumes importance in the wake of concerns raised by activists in border areas of Kolhapur and Sangli about the proposal to raise the height of the Almatti dam.
Atul Kapole, executive director at Maharashtra Krishna Valley Development Corporation (MKVDC) Pune in his letter earlier this month to Dr Sudhir Kumar, director, National Institute of Hydrology Roorkee, instructed to conduct backwater effect simulation study due to Almatti dam and barrages in Karnataka state on Maharashtra state.
"The latest report will be of immense use to Maharashtra while putting its side on proposed height increase," said Kapole.
Earlier this month, Karnataka Chief Minister Basavraj Bommai said during a visit to the dam on the Krishna River that the dam's height would be increased to 524 metres, up from 519.6 metres.
In his letter, Kapole stated that the study of the effect of the Almatti dam backwater on the flood situations in Maharashtra has been previously carried out by different agencies. But there is ambiguity about whether that dam has a major impact on floods in Maharashtra.
The effect of Structures like barrages, bridges, and weirs built across main rivers shall also be taken into account while carrying out the study, Kapole added.
In an interview with Hindustan Times, Kapole said, "During our earlier study, some information related to barrages, and bridges built by Karnataka were not taken into consideration, and as per the assurance given by Deputy Chief Minister Devendra Fadnavis in state Assembly during the winter session, we have approached the National Institute of Hydrology to conduct a detailed study on it so that it will help to take further steps in this regard."
Following the massive floods in the Sangli and Kolhapur regions in 2019, the State Government formed a committee led by retired secretary Nandkumar Vadnare to investigate the causes of the floods in Western Maharashtra. The committee submitted a report to the government in 2019 stating that Almatti is not to blame for the flooding in the region. Floods were caused by high rainfall in the area, encroachment in river beds, and other factors, according to the committee. The Almatti dam Backwater Committee had given the dam a clean chit after tabling the report.
However, in 2021, the Vadnare committee informed the government in a detailed letter that they had not received all information related to the study from Karnataka. Following the submission of the report, the committee received some information (unofficially) indicating that the Karnataka government had constructed a series of unscientific weirs, and a sketch relating to it was submitted to the state government.
Given all of these recent developments, the state government has decided to conduct a thorough scientific study of the impact of the Almatti dam's backwater on the flood situation in Western Maharashtra.
Vijaykumar Diwan, a member of Krishna Flood Control Samiti said, "We have already given a detailed study report regarding the same and it was found that the backwater of Almatti dam is responsible for the flood situation in Sangli - Kolhapur districts. Now we welcome this move by the government and with help of new technology relevant authorities will study the matter in detail."