Pune flyers furious over delayed flights, traffic jams despite newly started Aero Mall
Jan 23, 2023 10:58 PM IST
To add to their woes, there are frequent traffic jams outside the airport and vehicles continue to be parked on roads instead of the Aero Mall
Flyers are furious over flights out of Pune airport getting regularly delayed, with the last two days having been no exception. To add to their woes, there are frequent traffic jams outside the airport and vehicles continue to be parked on roads instead of the Aero Mall which was started for the purpose two months ago.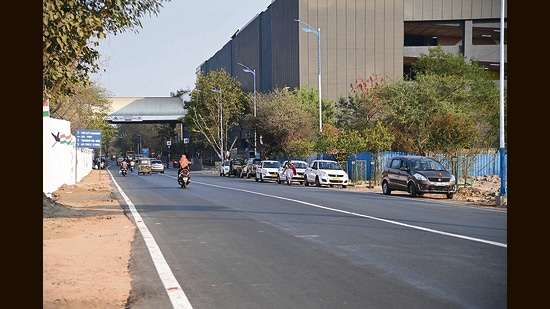 Sudhir Pegwar, a passenger travelling from Pune airport on Sunday, said, "Flight SG1078 Pune (PNQ) to Ahmedabad (AMD) was delayed by more than four hours and there was no staff at the departure gate to provide the correct time of departure. Passengers had to unnecessarily wait at this odd hour and the onward journey was also impacted. At 1.05 am, there was a fault in the main door of the aircraft which caused the delay. Bad maintenance."
Another passenger on condition of anonymity said, "Now, Pune to Delhi AI850 is having weight restrictions. No check-in luggage; it will come by a different flight. The flight scheduled on January 22 suffered excessive delay at Pune airport, wrong pass with no date, then three hours at Pune airport, and now luggage overload is causing problems and safety issues. Check-in luggage of passengers has been taken away by a different flight."
Flights out of Pune airport have been regularly delayed since the last few months, much to the annoyance of flyers. Last month, some flights were delayed by more than 16 hours. Flights across airlines have been delayed due to which passengers with connecting flights or important work at destination cities have suffered major inconvenience. "Last month, I had to go to Delhi for an important official meeting at 11 am, so I took the early morning flight but it was delayed by three hours. I could not reach in time for the scheduled meeting," said Vipul Alekar, a frequent flyer.
Meanwhile, there have also been frequent traffic jams outside the airport. For this very reason, the Airport Authority of India (AAI) started the Aero Mall in November 2022 to provide parking facilities to flyers and their friends and relatives who come to drop and pick them up. However, the facility is hardly being used by the public. The Aero Mall has a parking capacity of 1,000 cars but cabs and private cars continue to be parked on connecting roads outside the airport.