Shirdi airport to build temporary waiting terminal to accommodate flyers
Jan 21, 2023 12:28 AM IST
To accommodate more flyers at the Shirdi airport, authorities have planned to set up a temporary waiting terminal. The construction of the facility will begin soon
Pune: To accommodate more flyers at the Shirdi airport, authorities have planned to set up a temporary waiting terminal. The construction of the facility will begin soon.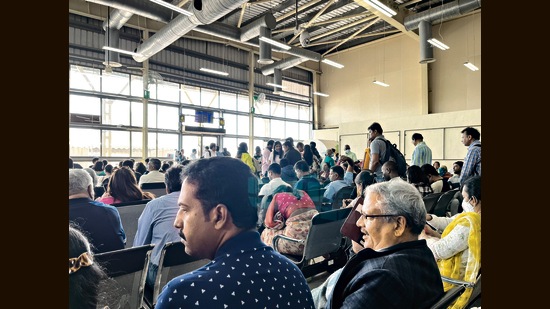 Deepak Kapoor, vice chairman and managing director of the Maharashtra Airport Development Company (MADC) tweeted, "We are building a temporary but beautiful waiting terminal for passengers at Shirdi Airport. Work order issued after an open tender. Work will start soon. Will be very comfortable for Shirdi airport passengers."
The Shirdi airport has faced numerous challenges in accommodating large numbers of flyers seeking blessings at the Sai Baba temple.
Shirdi airport has seen a heavy influx of passengers in the last 15 days, and there have been numerous complaints from passengers who are unable to find a seat in the waiting lounge.
Girish Ramanna, a Bengaluru-based flyer who visited Shirdi on Friday, tweeted, "JM_Scindia (Jyotiraditya Scindia) chaos at Shirdi airport. No place to sit and flight schedules need to be reviewed."
Another user tweeted "I'd like to draw your attention towards the pathetic condition of Shirdi Airport which is always under heavy passenger load. Before boarding, passengers are made to wait in open tents. Shirdi airport needs to be upgraded with all the most modern amenities."
AsthaB tweeted, "After landing stuck in an aircraft for 25 mins at Shirdi airport as they have only one parking lot for A321 sized aircraft, what a planning."
Samrat Mukherjee tweeted, "For the last 45 mins passengers are stuck in the aircraft in Shirdi airport because there is no bay for A321 type of aircraft. What planning, sorry state of affairs."
Shirdi is seeing a high volume of flyers from Hyderabad, Delhi, Bengaluru, and Chennai.
Shirdi airport authorities recently constructed PVC tents with an aluminium framework, fine seating and lighting to accommodate the soaring crowd during the last week of December. These tents can hold an additional 100 flyers.
Shirdi's current terminal building can accommodate 300 passengers.
The airport's authorities have also planned a new terminal building, which will open in May 2024. In a few months, the Maharashtra Airport Development Company Limited, which operates Shirdi airport, is expected to issue a tender for the new terminal building.
The state government has approved a ₹350 crore project for a new terminal building. Shirdi Airport opened in October 2017.