Startup mantra: Green marriage of farming and tech fertilised by innovative marketplace
Jul 17, 2021 04:43 PM IST
Ecozen Solutions, a Pune-based agri-tech startup, empowers farming sector through technology and perishables-friendly marketplace
PUNE Ecozen Solutions, a Pune-based agri-tech startup founded by three IIT Kharagpur graduates is developing a perishables-friendly marketplace, by empowering farmers through solar-power, accessible and affordable cold storage facilities and pump-motor controllers for irrigation. Enabled by clean and innovative technology, this company is also reducing carbon footprints and farm-produce wastage.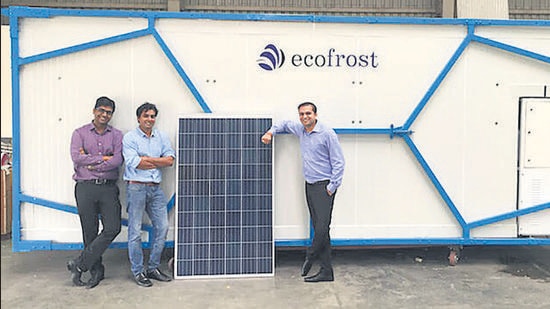 Halls of residences
Stay tuned with breaking news on HT Channel on Facebook.
Join Now
The story goes back to 2006, says Devendra Gupta, co-founder and CEO of Ecozen Solutions. "When I joined IIT Kharagpur, my batchmate Prateek Singhal was not known to me, nor was Vivek Pandey. We met Vivek through one of our friends. He was a year junior and he had graduated in 2012. Our journey and friendship really began when we got 'sorted' together at the Hall of Residences (hostel) on campus. Over the course of one year, we were part of the various projects and sports teams and that is how the bonding really started," he recalls.
Energy-driven start
Says Gupta: "We built a power harnessing device together. We did various internships as well at IISc Bengaluru, Siemens, and Burj Khalifa. We felt whatever we did in the project and internships was interesting. It got us thinking about what we would like to do after we finish our studies. So, during college itself, in 2009 we started working together. The focus was more 'energy driven' when we started. We wanted to create affordable, accessible and efficient energy harvesting solutions."
"The institute also asked us to take a similar drive. So, while in the college, Ecozen was like an initiative which was helping students gain real experience, apply engineering and actually create value using that. Every weekend, we would go to Kolkata to work in a foundry. The cost was covered by the foundry. Students would contribute during the day and go and party in Kolkata during the night," he said.
Early challenges
Sharing his experiences during the initial days, Gupta said, "The institution gave us recognition. After we graduated, we had good offers from reputed foreign institutes for further studies, as well as job offers from big Indian and multinational companies. During this period, we also met a bunch of farmers who were facing various challenges. They had resources like water and fertile land, but the challenge was agriculture dependent on rainfed irrigation. They were not able to take as many harvests as they could have, if they had access to better irrigation. It got us thinking and we thought of building a solar-based pump controller for irrigation."
"It was a very challenging period for us. We had many job-offers on one hand, while we all were facing personal and health problems. We all come from middle-class family backgrounds. It was a very stressful time wherein the health is not good, medical expenses were mounting, and there were job offers which were lucrative and which we could possibly take. We discussed it and said if we do not give this a shot now it is less likely that we have the guts to return. So, we all independently decided to give it a try. We wrote to all people who had given us a job offer, thanked them and told them about our decision to walk on the path of entrepreneurship."
Steep curve
Working in the agriculture sector is not easy. Says Gupta, "When we launched our pump controller product we increased our production, but the farmers' income did not increase proportionally. It again got us thinking and we started working on the supply-chain side. Then we went on to build the Ecofrost product which enables the farmer to store his produce and also to figure out where to sell."
Ecotron is an intelligent solar-powered pump motor controller set with built-in troubleshooting and service detection abilities. It is a device that can operate in remote areas with no grid power availability and has a remote on/off operation.
Ecofrost is a portable solar powered cold room based on thermal energy storage, which can maintain low temperatures without any backup power. Both the products are strongly integrated with the internet and give data about their usage and performance. Ecofrost can be deployed at farms, wholesale markets or packhouses
Using this data, Ecozen is building a perishables- friendly marketplace and algorithms to improve performance, serviceability and reliability.
"We believe that technology itself doesn't create value. We saw real-life problems being solved and thereby creating value. It was very satisfying for us and we felt that this may go on to become something big. Today we have 50,000 customers with a good national market share," says Gupta.
Ecozen has also developed a mobile and web-based platform Eco-Connect that facilitates the transaction of produce, enabling farmers to connect with organised buyers and re-sellers to sell commodities. This platform has served the interest of buyers and farmers equally. "Especially during the Covid-19 pandemic period, we saw that farmers were finding it difficult to push their commodities, because the markets were intermittently open or closed. With Eco-connect, we helped farmers take their commodities to big and organised retail players, and in turn the buyers. We helped them reach markets. We were able to add significant value to the supply chain," explains Gupta.
What the farmers say
"Using Ecozen's cold room, we have managed to maintain the freshness of our flowers thereby helping greatly in our supply chain and transits. Our clients have returned with positive feedback. The unit being solar powered saves power costs and the service by the company is appreciable," says N Yogesh, Red Blossoms, Chikkaballapur, Karnataka.
"Ecofrost cold storage facility has benefitted our FPO income immensely. We pre-cool vegetables, fruits, and flowers in cold storage which helps us to remove the field heat from the farm produce. This increases the product's shelf-life up to 1.5 times and 30 per cent more profit," says Manish More, Shatayushi FPO, Pune, Maharashtra.