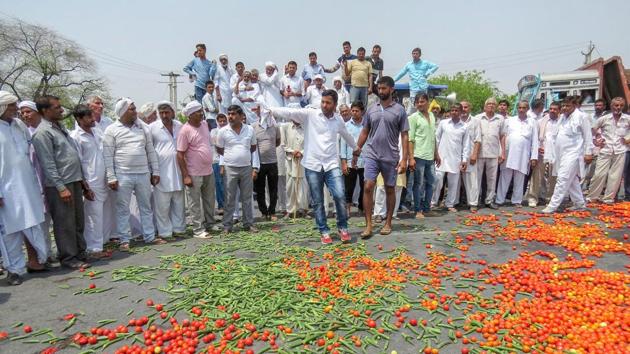 E-mandis can work but many pitfalls remain
The e-mandis proposed by the Centre are likely to be opposed by the state governments that guard their agricultural policy zealously
By Mark Tully
PUBLISHED ON JUN 16, 2018 04:21 PM IST
Fifteen years ago I travelled the length and breadth of Karnataka trying to find out what ailed agriculture in one of India's most progressive states, and why farmers were committing suicide. In the agricultural university at Dharwad, the academic staff told me the basic problem was that researchers had concentrated on production and ignored post- production. A plant physiologist said: "We forgot the market. Now the stark reality is staring us in the face. Farmers come to us and say 'we did everything you told us to produce crops — now tell us where to sell them'. This bitter lesson has just been learnt."
But the lesson does not appear to have been learnt — farmer suicides, crops being dumped, bills for sugarcane unpaid, the evidence of the anger of sugarcane growers voiced in the Kairana by-election, and last week's farmer strike all speak of agriculture still in distress. The Uttar Pradesh chief minister, Yogi Adityanath, has tried to remedy that impression by publishing full page newspaper advertisements carrying his and the prime minister's pictures with a headline reading, 'Happy and Prosperous Farmers: Face of the New UP. We Keep Marching Ahead.' But some farmers might ask, "Who is he fooling?"
It is widely agreed that one of the crucial causes of farmers' distress are the Agriculture Produce Marketing Committees, established by governments to ensure that farmers were not exploited by intermediaries when marketing their produce. The mandis by these committees have achieved the opposite — they have become infested by middlemen, colluding to fix auctions, charging double commissions from both farmers and purchasers, saving tax by refusing to give the farmers the receipts they need to get bank loans, and benefitting from the restrictions placed on farmers' ability to sell their produce elsewhere.
Last year the central government, realising the mandi problem, passed a new, less restrictive, marketing act, which it hopes will serve as a model for state governments to follow. For the last two years the central government has also been encouraging the establishing of e-mandis, which enables farmers to trade online. Now the Cabinet has approved the setting up of the National Agriculture Market, a national e-mandi.
E-mandis do facilitate payments and receipts. They can establish efficient prices and should eliminate middle-men who collude to fix prices. But opposition from middle-men could slow the development of e-marketing. The links the middle-men have with the political parties are one of the reasons there has been so little progress on reforming agricultural marketing.
The national e-market is also likely to face resistance from state governments that guard their control over agricultural policy zealously. They are likely to see a national market as yet another incursion by the central government into an area which by rights belongs to them. This is an argument for the BJP government moving rapidly while it controls so many state governments.
But even if e-mandis spread rapidly, will they help the small and marginal farmers who are so often left behind? They already count for very little. When governments forgive loans many of them do not benefit because they are in the hands of money-lenders, not banks. The marginal and small farmers are worst hit by lack of storage, they can't afford to mechanise, and receive little or no help in adapting to new technologies. Who is going to help them to trade on e-mandis?
May they not fall into the hands of middle-men who offer to represent them in the market. Will the market be flexible enough to handle the small amounts of produce they have to offer, or will they be dismissed as colourful relics who have to be left to fade away for India to progress?
Finally, it will be all too easy for governments to fall into the trap of thinking that e-mandis will solve all the problems of farmers, and so do nothing about the chronic shortage of storage, the lack of modern supply chains and the improved (but by no means yet adequate) infrastructure, the cycles of surplus and shortage which still hobble agriculture. Digitalisation can be dangerously seductive.
The views expressed are personal
Close