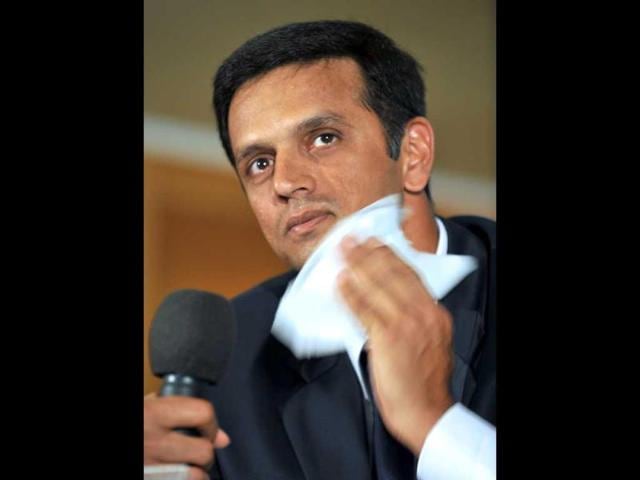 Thank you for the memories
Rahul Dravid has called time on his illustrious career spanning 16 years. The 'Wall' of Indian cricket will always be remembered for his technical virtuosity, intense concentration and team spirit. Pradeep Magazine writes. They say | Player to legend, a journey worth remembering | A picture of dignity and calmness
UPDATED ON MAR 10, 2012 03:10 AM IST
Memories flash across the mind. Images of a man, shy, reticent, uncertain, yet eager and hungry to find out whether he is good enough to succeed and survive at the international level.
When, one summer afternoon in 1996 at Lord's, Rahul Dravid walked out for the first time to bat in a Test match, he had a world pregnant with immense possibilities awaiting him. "I was like a child in a sweetmeat shop," he was to say, the day he played his 100th Test, almost a decade later.
The child in him was excited, thrilled at a dream being fulfilled; after all how many sportsmen get picked to play for their country!
If he was nervous, no one noticed it, and within hours of his entering a new challenging world, Dravid had, by sheer grit and self-belief, made the cricketing world realise they were watching someone born to play Test cricket.
There was no flashy flamboyance in his strokes, no traces of impetuosity the young are prone to. The Dravid we know today - solid, firm, unflappable and embedded in sound technique - was there for everyone to see, even though he was just a few hours old in international cricket.
Beyond expectations
Watching him bat that day was a pleasure and to see him fall short five runs from scoring a debut hundred, a disappointment. Yet, it would be a lie, if one was to say we had seen greatness written all over him.
His first few years in the turbulent Test arena were a confirmation of a talent, may be limited in its reach, but sure of himself.
On the tour of the West Indies in 1997, Michael Holding had this to say, "Unless he starts dominating the bowling, he would remain a useful batsman, but not a great one."
Dravid, a man steeped in the classical traditions of the game — more occidental than oriental in his approach — was in no hurry. His ambitions were not to achieve his goals in haste, but to take one step at a time. He realised the limits of his grasp but worked hard to overcome them.
As time went by, Dravid's sharp and acute understanding of his own game and virtues of a sound technique blended perfectly with his phenomenal powers of concentration that finally shaped a career which has few peers in Indian or even world cricket.
If his batting in Tests acquired a sharp edge, he did not let the frenetic slam-bang pace of limited-overs cricket defeat him.
He transformed himself from a stodgy, obdurate Test batsman to a lively, even exuberant, creator of innovative strokes to cement his place in India's one-day side.
Some aggression
No longer was he just Dravid 'The Wall', but a 'Wall' which could now counter-attack and in the process reveal a dominating facet of his game, which had remained dormant for too long.
There are not many whose personal milestones run parallel with the achievements of the team. His most outstanding contribution to Indian cricket, a rare one at that, is that his success spelt team success.
One of the greatest
The harsher, the steeper the conditions, the better his responses were. Dravid was from 2000 to 2005 at the forefront of almost every India victory abroad or at home and that to my mind makes him one of the greatest, if not the greatest, batsman of our times.
If ever a dissertation on modern day batting is written, a special place will have to be found for his monumental battles against the most skillful of swing bowlers in the most adverse of conditions or his masterly encounters against the fury and pace of the best in the game.
Farewell Dravid, and welcome to a world beyond cricket.
They say | Player to legend, a journey worth remembering | For the record | statistics
Close