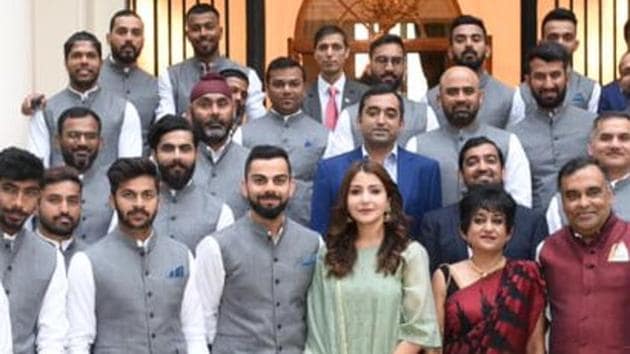 'Anushka Sharma was invited to reception by High Commissioner'
Indian cricket fans were irked by Anushka Sharma's presence in the photograph, while no other cricketer had their spouses for company.
Hindustan Times, New Delhi | By Arnab Sen & Prasun Sonwalkar
UPDATED ON AUG 08, 2018 09:01 PM IST
Virat Kohli and Anushka Sharma are no strangers to both appreciation and trolling on social media and the duo have been targeted yet again, this time for a photograph posted by the BCCI on its social media handles.
The photograph in question is of the Indian team at the High Commission of India in London, where Anushka was the only relative, of a cricketer, present during the official visit.
Indian cricket fans seemed to be irked by Anushka's presence in the photograph, while no other Indian cricketer had their spouses for company.
The BCCI, though, has said that no official protocol was broken as the Indian High Commission had invited all the players along with their family.
ALSO READ: India's predicted XI for Lord's Test - changes expected
"This is the norm wherever the team travels. The High Commission invites the players with their relatives and it is eventually the decision of the individuals. Even in London the players were invited along with their partners. There has been no breach of any protocol," a source in the BCCI told Hindustan Times on conditions of anonymity.
The fact was also confirmed by a source at the Indian High Commission who told Hindustan Times: "Anushka Sharma came to the reception for the Indian cricket team at the invitation of the high commissioner and his wife. The reception was hosted by the high Commissioner and his wife and not the High Commission. The group photo was taken as the team were entering the house. Ajinkya Rahane may have stood at the back on his own He wasn't asked to stand there. The reception was at the high commissioner's residence and not at the high commission."
The Board had recently asked the players to not get distracted by their wives and girlfriends while on tour. According to the guidelines laid down by the board, partners are allowed to stay with players for not more than two weeks on tours exceeding 45 days.
India lost the first Test at Edgbaston by 31 runs, despite Virat Kohli scoring 149 and 51 in the two innings. The team will take on England in the second Test at Lord's in London from Thursday.
Close