Book review: Spell-Binding Spells - A fine tribute to bowlers in cricket
Feb 03, 2018 07:43 AM IST
Anindya Dutta's book Spell-Binding Spells is a wonderful tribute to bowlers, a species in cricket that have been dominated by batsmen but who have shone through to give memorable moments.
In cricket, there have been books dedicated to several genres. Autobiographies of prominent players, lists of best matches, most memorable knocks, description of some memorable events of a major tour or by a personality have all been published. However, there are few on great bowling spells in a list that is invariably packed with tomes for batsmen.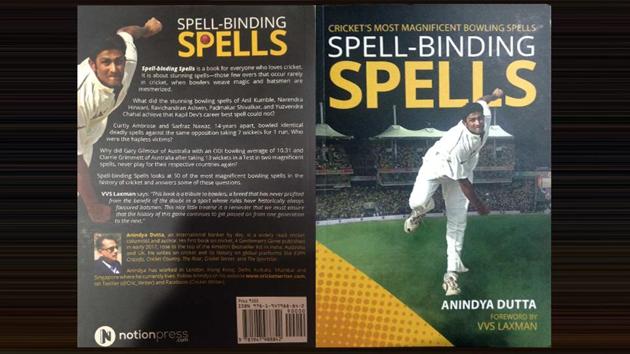 One book that stands out on bowling is 10 for 66 and All That by Australian leg-spin great Arthur Mailey, who returned the sensational figures in a first-class tour game for the visiting Australia against Gloucestershire in 1921.
Anindya Dutta's wonderful work titled Spell-Binding Spells is a tribute to many such spells that have left an impression on the game.
The foreword by former India batsman VVS Laxman sums up the spirit of the book. "This book is a tribute to bowlers, a breed that has never profited from the benefit of the doubt in a sport whose rules have historically always favoured batsmen." Taking off from this, Dutta weaves a wonderful tale of bowlers who have left an impact in the game.
Dutta's range and depth is fascinating. He begins each chapter with insight and detailed description of each spell, providing some interesting background to the spell. From game-changing spells that came out of the blue, performances on debut, ODIs and Twenty20 Internationals, the spells mentioned establish an instant connect with fans. The book's format is crisp with interesting anecdotes and a list of scorecards of various matches.
The best chapter in the book is amazing spells from a forgotten cricket land. Here, Dutta highlights spells from United States of America, Canada, even Argentina. The part on Clem Gibson, a cricketer born in Entre Rio, Argentina, is intriguing. In a game between an England XI and Australia in 1921, Gibson bowled 22 overs on the trot to take 6/54 and help England win, just after they had lost the Ashes 5-0.
The other two chapters that leave a lasting impression are remarkable farewell spells. Dutta also chronicles the spells of bowlers who did not represent their country at the highest stage. The pain of not having made it to the biggest level is highlighted, most notably that of left-arm spinner Padmakar Shivalkar, who was a giant in the Indian domestic circuit for decades but never broke into the India team.
A slight criticism is perhaps justified over Dutta sometimes leaving out a few of the best spells. In the first chapter titled Game-changing spells out of the blue, Dutta has omitted the spell by Mitchell Johnson in the Adelaide Test of 2013 against England. On a flat deck, Johnson's 5-2-16-5 is considered one of the great modern-day spells and his haul of 7/40 gave Australia momentum for a third 5-0 whitewash in that series.
Still, the book provides a wonderful insight on bowlers and their impact on the game.
Spell-Binding Spells
By Anindya Dutta
Published by notionpress.com
Pages: 315
Price: Rs 355