Cameron Bancroft ball-tampering 'out of character' - Adam Voges
Updated on Mar 25, 2018 11:11 PM IST
Cameron Bancroft's former captain Adam Voges says the opener acted 'completely out of his character' on a dark day for Australian cricket.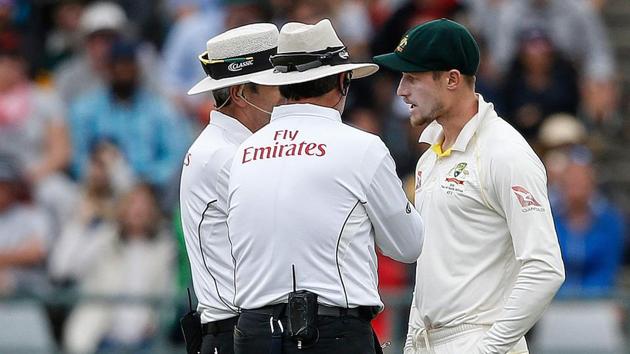 Omnisport |
By Peter Thompson
Adam Voges believes Australia batsman Cameron Bancroft would have been "morally and ethically" against ball tampering but agreed to break the rules because he would "do anything for the team". (SA vs AUS 3rd TEST, DAY 4 HIGHLIGHTS)
Bancroft was caught on camera rubbing the ball with tape on day three of the third Test against South Africa at Newlands and admitted the offence in a media conference later in the day.
(Read | Sorry Australia thrashed by South Africa in ball-tampering aftermath)
The opener said he was in the "wrong place at the wrong time" as the tourists' "leadership group" devised a plan to manipulate the condition of the ball during the lunch break.
Captain Steve Smith was given a one-match ban by the ICC on Sunday after admitting he was "party to a decision" to tamper with the ball, while Bancroft received three demerit points and has been fined 75 per cent of his match fee for putting the plan into action.
(Read | Harbhajan Singh slams ICC's decision in Steve Smith ball tampering row)
Voges captained Bancroft at Western Australia and the former Australia batsman said the 25-year-old's behaviour in Cape Town was out of character.
"Cameron Bancroft is the kind of guy that would do anything for the team," Voges told cricket.com.au.
"That probably sums up his willingness to do something that I'm sure morally and ethically was against what he wanted to do.
(Read | IPL 2018: Ajinkya Rahane could replace Steve Smith as Rajasthan Royals captain - Reports)
"But if the team asks Cameron to do something he'll do it for them.
"I was completely shattered when I saw the footage and being in the press conference with Steve Smith and Cameron Bancroft last night and [watching] them admit guilt of trying to alter the condition of the ball.
"My initial reaction is that it's not something I know Cameron Bancroft to be a part of.
"It's completely out of his character. My initial reaction is that certainly wasn't an idea he came up with by himself."
Bancroft fell for 26 on day four of the third Test, the first Australian wicket to fall as they were bowled out for 107 to hand South Africa a 322-run victory.