'Dinesh Karthik demands a place in T20 WC squad': Manjrekar makes huge statement on 37-year-old's stunning comeback
Updated on Jun 27, 2022 07:04 AM IST
Dinesh Karthik was recalled to the India team after a strong season in the IPL with RCB, where he scored at a strike rate in excess of 180 throughout the tournament.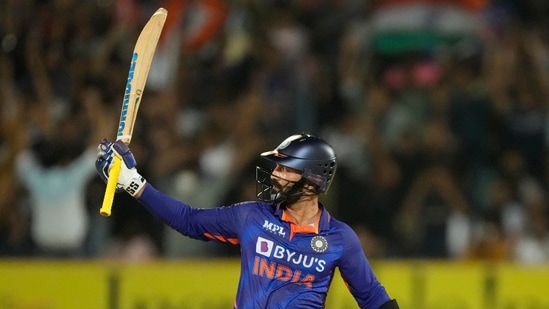 The role of a finisher is one of the most coveted ones in limited-overs cricket, and for any team to have a measure of success in the T20 and 50-over format, it is essential for them to have a player who can accomplish that role. Former India batter Sanjay Manjrekar believes India have one such player up their sleeve who could make the squad for the T20 World Cup on that criterion alone. (Also Read | Dinesh Karthik's 'Alex Ferguson' tweet for MP head coach Chandrakant Pandit sets Twitter on fire)
Manjrekar said Karthik is a strong contender for the finisher's role in the T20 World Cup slated to take place in Australia in October-November this year. Karthik was recalled to the India team after a strong season in the IPL with RCB, in which he was allowed to bat at number 6 and often even lower, so that he can do the maximum damage in the death overs. And he did exactly that, scoring at a strike rate in excess of 180 throughout IPL 2022.
"I think there's a good chance that will happen because of him proving his worth. And that series against South Africa, especially in the fourth game, where he was the player of the match, striking 200 was a show of his ability," Manjrekar told NDTV.
Karthik notched up his first-ever T20I half-century in Rajkot against South Africa, more than 15 years after his first appearance in the format for India. It was an innings that pushed India to 169, a big total on a slow track. In the end, South Africa crumbled under pressure and folded for 87.
"So yes, he is an extremely tempting option. There'll be a few matches before the T20I World Cup so I guess he'll have to keep reminding the selectors that he's still relevant."
Karthik has travelled with the T20I team to Ireland for the two-match T20I series, where he will be captained by Hardik Pandya. He might be chosen for the series against England in July as well, after which will follow a series against West Indies and Australia, as well as the Asia Cup, before the T20 World Cup in the Australian summer.
"It's just amazing that this guy at this stage of his career has carved a niche for himself. I tweeted also about him where he is one of those rare players in fact one of the first players in the world in T20 Cricket who actually is a specialist kind of cameo batter down the order," said Manjrekar.
"He is not somebody who will bat at number three or four, and generally bat at number 5, 6, 7. He will get a few overs, 15-20 balls, to make a contribution. It makes such an impact. Such batters are another string to the bow." Manjrekar believes having a batter like Karthik who doesn't need to face too many balls to get set and knows how to score runs against opposition bowlers in the death is invaluable to the success of the Indian team.
"So Dinesh Karthik actually commands a place in this team for his cameo batting. With Pant as keeper and Dinesh Karthik in the team only as a batter just tells you the kind of work that he's adding, which has been amazing!"
Karthik was chosen as a specialist batter in the South Africa series, although he donned the gloves against Ireland.
Personalise your news feed. Follow trending topics