How Virat Kohli's bat helped Ambati Rayudu script IPL 2018 success
Hindustan Times, Mumbai |
HT Correspondent
May 30, 2018 12:00 PM IST
Ambati Rayudu revealed his strange superstition involving borrowing a bat from Virat Kohli in Harbhajan Singh's new YouTube talk show.
Ambati Rayudu was one of the success stories of this year's Indian Premier League (IPL). Playing for Chennai Super Kings (CSK), he amassed 602 runs from 16 matches at an impressive average of 43.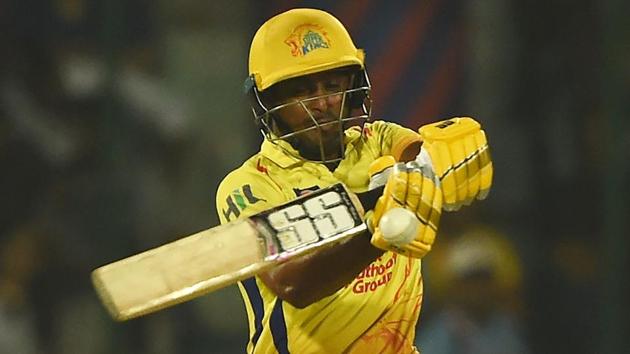 He was CSK's leading run scorer in the tournament and played a key role in helping them lift their third IPL title, and Rayudu has now revealed one of his superstitions that he follows to bring him good luck.
Talking to his CSK teammate Harbhajan Singh is his YouTube talk show 'Quick Heal Bhajji Blast', the Hyderabad player spoke about taking a bat from Indian cricket team captain Virat Kohli every year.
"Har saal ek bat leta hu Virat (Kohli) se, usko bhi maloom ho gaya ki tashan hai. Is saal to gaali deke diya hai (I take a bat from Virat every year. Even he now knows how I want to show it off. This time, in fact, he swore before giving me a bat," he said when Harbhajan asked him about his superstition.
READ | Shane Watson believes Australia's ball-tampering penalties are extreme
The 32-year-old, who was part of Mumbai Indians franchise before being signed by the CSK this year, also said that he was not interested in cricket earlier and it was because of his father that he took to the game.
"I did not have much interest in cricket earlier. I was more interested in studies. My father enrolled me in a cricket camp," he said.
Harbhajan, who was a teammate of Rayudu at Mumbai Indians too, let out another secret about him saying that the Hyderabad batsman doesn't keep even a single mobile phone.
When quizzed on his aversion to cellphones, Rayudu said this, ""Because when I am thinking about something and a call comes, my thinking stops. Therefore, I don't keep phones."
READ | Star-studded Australia A Test, ODI squads named for India tour
During the chat, Rayudu took the names of VVS Laxman, Sachin Tendulkar and Ricky Ponting as his idols.
"Laxman was my idol while growing up. When I came to Mumbai Indians, I learned a lot from Sachin Tendulkar and Ricky Ponting.
"What I like about Paaji (Sachin) is that he is still such a humble person. Even after achieving so much, he says he is still learning."