India vs England: Dinesh Karthik misses ton, pacers get work out in warm-up match vs Essex
Updated on Jul 26, 2018 11:41 PM IST
Indian pacers picked up five Essex wickets after India were bowled out for 395 on day 2 of the warm-up match.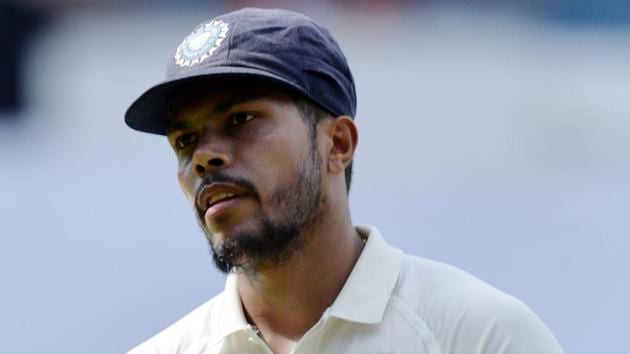 Arriving in England, the one department in the India team that looked forward to typically English conditions was the pace department. But Mohammed Shami, Umesh Yadav and Ishant Sharma, besides Shardul Thakur, may have reservations ahead of the Test series against England starting in Birmingham.
The second day of India's only practice game, the three-day tie against Essex, saw the visiting pacers bowl a disciplined line and length but the green pitch that had initially troubled the visitors' top-order had lost most of its life under the baking sun.
India were 395 all out before lunch on Day 1 and Essex came through the test by the visiting pacers to reach 236/5 at stumps.
It was clear that India's focus was on giving their batsmen and pacers a good workout. India's main spinners, R Ashwin and chinaman bowler Kuldeep Yadav, stayed out of the action in the only practice game before the first Test starting at Edgbaston, Birmingham on August 1.
Shami, who had not played whites cricket since the South Africa tour due to personal problems, and Umesh Yadav bowled lively spells either side of lunch break. However, Shami didn't take a wicket, returning none for 59 in his 14 overs.
ALSO READ | India vs England: Ravichandran Ashwin must stay focused despite Kuldeep Yadav lurking in the shadows
Umesh Yadav did much better considering the flat pitch, returning 14-7-23-2 while Ishant Sharma too was impressive, claiming 2/38 with Shardul Thakur, the back-up seamer, rewarded for his hard work with the wicket of Essex skipper Tom Westley, who miscued to third man for 57. Michael-Kyle Pepper top-scored with 68 (74b, 115m, 15x4) before Ishant foxed him with an in-coming delivery, which he played on to the stumps.
Although 56 overs were share by India pacers with Jadeja bowling just two, India may not be quite sure what to expect in Edgbaston. Far from seamers threatening to run riot, the Test series is being played under the threat of the harsh summer turning it into a contest between the spinners of both sides.
They only benefit would be India's likely pace trio getting long spells after the batsmen had useful stints.
Wicketkeeper Dinesh Karthik fell first ball of the day for 82, ending hopes of at least one of the five batsman who got fifties going on to score a century.
Essex, 70/2 at lunch, were 130/3 at tea on Day 2.
Although the ball did a bit early on Wednesday to trouble the Indian top order, the pitch showed its true colour after lunch on Day 1, with movement reduced to a minimum.
Virat Kohli bowled pace for 30 overs before bringing on Jadeja, who bowled just two overs as there was little help on the pitch.
ALSO READ | India vs England: KL Rahul pushes for spot in Edgbaston opener
Karthik played an uppercut against left-arm paceman Paul Walter but found the fielder at deep third man. But the knock (95 balls, 157 min, 14x4) would have boosted his confidence stepping in for injured stumper Wriddhiman Saha. Walter finished with four wickets.
All-rounder Hardik Pandya hit a stroke-filled 51 (82b, 93 min, 8x4) while Karun Nair fell cheaply to the moving ball, playing on against seamer Aaron Beard for four runs.
India also seemed to experiment with their trouble area, slip fielding. In the morning it was Shikhar Dhawan and Virat Kohli with Ajinkya Rahane in the gully. In the evening, Cheteshwar Pujara, Murali Vijay had taken over in the slips.
The match was initially a four-day affair, but the Indian team management wanted to reduce it to three days and get extra practice time in Birmingham.