India vs Pakistan, World Cup 2019, Highlights: Rohit, bowlers make it 7-0 for India against Pakistan
Jun 17, 2019 10:52 AM IST
India vs Pakistan as it happened: India thrashed Pakistan by 89 runs via DLS method to extend their unbeaten run over their arch rivals in World Cups. Batting first, opener Rohit Sharma hammered 140 while Virat Kohli hit 77 as India put on board a challenging 336 for five. In reply, Pakistan were restricted to 212 for six in 40 overs after the match was curtailed because of rain. For India, Vijay Shankar, Kuldeep Yadav and Hardik Pandya picked up two wickets apiece.India vs Pakistan, highlights:
23:59 hrs IST
Done and dusted
That's it! Way too easy. India have beaten Pakistan by 89 runs via DLS method to extend their unbeaten run over Pakistan in World Cups.
23:53 hrs IST
The Bumrah no ball returns or does it?
Edged and it flies for a boundary. Umpire Bruce Oxenford signals a no ball, a free hit for Pakistan. Oh hang on, replays show Bumrah's front foot landed well inside the line. Thank goodness it's not a close encounter.
23:46 hrs IST
A no show from Pakistan
Hard to describe what is happening in the middle right now. Yes, the equation is next to impossible but that doesn't mean there won't be an honest attempt from the Pakistan batters. They have scored just 16 runs in 2 overs when they needed 136 runs from 5.
23:30 hrs IST
40-over match
The official broadcasters say match to resume at 10.40 pm. It has been reduced to 40-over game and guess how much Pakistan have to get? 302. yes you read that right. They need 136 runs off 5 overs via DLS method.
23:18 hrs IST
Covers coming off
The situation has improved a bit and the side covers are being removed by the ground staff. At this point, we are losing one over per four minutes and it will be interesting to see how many overs will be left when the match resumes.
22:52 hrs IST
Pakistan way behind DLS par score
The DLS par score after the end of 35 overs is 252. So, Pakistan are massively behind, 86 runs to be precise. If there is no play then India will win this match by 86 runs.
22:46 hrs IST
Rain arrives
Just as we predicted, rain has arrived and the ground staff have sprang into action. The players run off. Doesn't look like it will take long but for the moment we have to wait. Pakistan are 166 for 6
22:41 hrs IST
Shankar removes Sarfaraz
BOWLED! Shankar on a roll. Pakistan seem to have no goal. They are neither able to attack, nor able to survive. Outside off, on a length, Sarfaraz looks to work it to the leg side but the ball cuts in off the seam, takes the inside edge and hits the leg stump. Sorry state of affairs for Pakistan and Sarfaraz.
22:36 hrs IST
Rain threat looms large
It has gone dark here. The umbrellas are out and it's only a matter of time before the rain causes another stoppage in this game. Just to be clear, Pakistan at this stage are 65 runs behind the DLS par score. So you now know which side will be happier with the rain
22:29 hrs IST
28 runs from 6 overs
Pretty much going through the motions now. Imad Wasim and Sarfaraz Ahmed don't have much choice but to be a little cautious before they can even think of going for the target.
22:07 hrs IST
'Pandya'monium
First Mohammad Hafeez and then Shoaib Malik off the very next ball. Pandya is on cloud nine. The first delivery was lose delivery down the leg side which Hafeez flicked it straight to the deep square-leg fielder and then Malik chops it on to his stumps to be dismissed for a golden duck. Pakistan have lost 4 wickets for 14 runs.
21:55 hrs IST
Double strike from Kuldeep
If Babar Azam was big, this is even bigger, it's Fakhar Zaman. Excellent from Kuldeep. He beat Zaman in the previous delivery and then slips it further up, Zaman tries to play the sweep shot but the turn does him in. He gets a top edge that lands safely in the hands of Chahal. India are right back on top.
21:38 hrs IST
'Cool'deep
BOWLED! A beauty from Kuldeep Yadav to bring an end to an excellent partnership. It was just too a delivery. Pitches just outside off, grips on the surface, turns in to sneak through the gap between Babar's bat and pad. India roar back!
21:37 hrs IST
Fifty for Zaman
SIX! Fakhar Zaman gets to his fifty. The Indian boundary riders were interested for brief period but it just sailed over their head for the first six of the Pakistan innings.
21:18 hrs IST
Zaman breaks the shackles
A loose delivery from Pandya and it was smashed to the fence by Fakhar Zaman. Pakistan needed this boundary, they were stranded in the middle for a long time. Hopefully, this will give both Zaman and Pakistan some momentum.
21:05 hrs IST
Bhuvi ruled out from this match
Official world from the Indian team management is that Bhuvneshwar has stiffness in his left hamstring and will not take any further part in this match. A big blow India but thankfully they have Vijay Shankar in this match to fill in.
21:03 hrs IST
Great start from Kuldeep
Kuldeep Yadav begins well, gives only 2 runs away from his first over and more importantly there was some turn there.
20:55 hrs IST
Bhuvi may not comeback soon
No official word yet but from the look of things, it seems like India won't take a risk with Bhuvneshwar Kumar. Perhaps that's why both Shankar and Pandya are bowling in tandem.
20:50 hrs IST
Pakistan 38/1 at Powerplay
Brilliant from Shankar, brilliant from India. They have tied Pakistan down. The Men in Green are 38 for 1 after the Powerplay, certainly not the start they were looking for chasing 337.
20:42 hrs IST
A boundary ruins the over
Five dot balls and then a boundary from the last ball of the over. It should've been a maiden but Bumrah just strays down the leg side for a boundary.
20:31 hrs IST
Cracker from Babar
FOUR! Crunched, right from the middle of the bat. Bumrah errs in both length and line and Babar Azam shows why he is rated highly in Pakistan, rocks back and smashes it through the off side to collect his first boundary.
20:28 hrs IST
Super sub Shankar
OUT! That is nothing short of a fairytale for Vijay Shankar. Virat Kohli throws him the ball to complete the over after Bhuvneshwar Kumar walked off with a niggle and how does Shankar respond? Simple, he runs in, pitches it around leg and middle, brings it back to ever so slightly to trap Imam in dead in front. A first ball wicket.
20:19 hrs IST
Superb from Bumrah solid Zaman
Very good over from Bumrah. He tested Zaman outside the off stump, beat him with the angle but credit to the Pakistan opener for not get sucked into it.
20:15 hrs IST
Imam flicks it for four
Good shot from Imam ul Haq. He uses his wrists to flick the ball between the mid-wicket and mid-on fielder for a four. Bhuvneshwar Kumar just struggling with his line a little.
20:08 hrs IST
Lose from Bumrah
A gift from Bumrah and gleefully accepted by Fakhar Zaman. A juicy full toss outside off and Zaman drives it past the inner ring to collect an easy boundary.
20:05 hrs IST
Bhuvi starts well
Encouraging start for India, only 2 from Bhuvneshwar Kumar's first over. But more importantly, there was some movement off the pitch, which was not there when the Pakistan seamers were bowling.
20:01 hrs IST
Finally ready for action
Right, after numerous stoppages we are finally ready for some action. The players had to wait for a good 10 minutes because rain had made a brief comeback but it all looks fine now. Bhuvneshwar Kumar to start the proceedings for India, Imam to take the first ball for Pakistan.
19:40 hrs IST
Oh no rain, oh yes sunshine
It started to rain just as the Indian innings ended. The groundstaff decided to bring the hover cover on but before they could put the rest of the covers in place the rain vanished and guess what? bright sunshine followed. This is the English weather we all are accustomed to, not the rain washouts.
19:28 hrs IST
India finish with 336/5
A good last over Mohammad Amir, only 9 runs coming from it. Pakistan did pull things back a little towards the end but India will be mighty pleased with 336 on the board. One would have to say, the rain delay did hurt the momentum of the Indian batsmen.
19:22 hrs IST
12 from the 49th over
Only one boundary but despite that India collect 12 runs from the Wahab Riaz's over.
19:15 hrs IST
Kohli goes
OUT! Virat Kohli decides to walk. A well directed bouncer from Amir, Kohli plays the pull shot but gets a faint nick to the keeper. Third wicket for Amir. Pakistan are pulling things back. Hang on! Replays show nothing on ultra edge and the umpire had given him not out so it would have stayed even if the Pakistan had gone for the review. Big moment in the game?
19:11 hrs IST
Depth touch from Kohli
FOUR! Brilliant from Kohli, class written all over it. Wahab goes for the cutter with third man inside the ring, Kohli waits for it to arrive and just taps it between the keeper and short third man for a boundary.
19:04 hrs IST
Play to resume at 7:10 pm IST
Right, we have a start time. The umpires are satisfied and play will resume at 7:10 pm IST. Good news for India is that they will have a chance to complete their innings and it will be a 50-over game.
18:59 hrs IST
Inspection going on
The umpires are out there inspecting the conditions. Looks like they are satisfied and we should get a game anytime now.
18:48 hrs IST
Covers coming off
Good news, tt has gone brighter in Manchester, the covers are coming off. The soppers are working on the grounds as the drizzle has died down. It should not be long before we get live action.
18:36 hrs IST
DLS scenario
If India don't bat again, Pakistan will have to chase 327 in 46 overs. And just in case, the game gets reduced to a 20-over one then Pakistan will have to chase 184 for victory but that looks unlikely at the moment.
18:30 hrs IST
Passing shower?
The commentators say this might be a passing shower. But at the moment it's still heavy. Before you all start worrying, we have still have more than an hour before we start losing overs.
18:17 hrs IST
Rain intervenes
The rain threatened and it has finally arrived. The umpires have taken the players off the field, it was always on the cards. Kohli is hurtling along and is being given company by Vijay Shankar at the other end. This could be a lengthy break, the umbrellas are out!
18:08 hrs IST
Dhoni dismissed
Length ball angled across Dhoni who wanted to slam it out of sight, does not get near it, ball takes the outside edge and is caught by Sarfaraz. Pakistan need to keep picking up wickets, India will aim for a score in excess of 350
18:01 hrs IST
Hardik departs
Well, he was humming along, but now has holed out at long on. Shuffled across, tried to flick it away with a helicopter twirl over long on, does not enough wood and is caught by Babar Azam at long on. He departs, but India need to keep chugging along
17:59 hrs IST
50 for Kohli
The King is on the move, notches up his 51st ODI 50. He will now absolutely take off. Watch out Pakistan, this can hurt them here.
17:51 hrs IST
Kohli, Hardik take control
Now the time has come for India to go for the final flourish. India need to press on the accelerator and bat Pakistan out of the game. Pakistan have the bowlers to exert control in the final overs and hence, the task will be cut out for Hardik, Kohli.
17:41 hrs IST
Rohit out
After smacking a four, Rohit tries to scoop one over short fine leg, does not the timing right and is caught by the man. He is livid with himself, and drags himself off the field. A sublime innings comes to an end, India have the perfect platform for a gallant finish.
17:19 hrs IST
India reach 200
India have crossed 200 and now both Kohli and Rohit need to step on the accelerator and look for a grand finish. They have set the perfect platform, they have power at their disposal and they need to accelerate right about now
17:04 hrs IST
24th ODI 100
India vs Pakistan, pressure, what pressure. Absolute breathtaking, he has been in control from ball one, attacked Hasan Ali, creamed the spinners, and has galloped away to a hundred. This has been one stunning innings, he needs to carry on and make it big!
16:57 hrs IST
Amir has been on song all day
It is that battle, Amir vs Kohli and the fast bowler has already beaten the skipper once and has few words to offer as well. Kohli wanders down the track, taps the pitch, smirks and goes back to take guard once again. What an absolute delight, this contest.
16:51 hrs IST
My God, Rohit
Short and wide from Hasan Ali, Rohit stays tall and slashes it away over point, all the way, the ball has cleared the boundary, that was some stroke, he is playing some innings today
16:37 hrs IST
KL Rahul departs
Wahab Riaz goes around the wicket, bowls a full ball outside the off stump and Rahul drives very loosely and is caught by Babar Azam at short cover. Extremely soft dismissal, Pakistan get their first wicket, after a humongous wait
16:31 hrs IST
KL Rahul's 50: Stat attack
· 3rd fifty in ODIs
· 1st vs Pakistan
· 1st fifty in WC in 3 innings.
· This is also the first time two openers have scored fifties against Pakistan in a World Cup inning
16:27 hrs IST
50 for KL Rahul
Asked to open, the Karnataka-lad has done a superb job. He was watchful up front and then slowly opened up and this 50 will do him a world of good. He will now look to attack the spinners, India are firmly in control here, Pakistan need a wicket!
16:19 hrs IST
Pakistan building dots
After a frenetic start, Pakistan have managed to pull things back. The spinners are piling on the dots and KL Rahul is a man under pressure. Good passage of play for Pakistan, Rahul cannot go into his shell, he has to rotate strike, if not getting the boundaries.
16:12 hrs IST
India in firm control
💯 up for #TeamIndia

Openers KL Rahul and Rohit Sharma provide their side with a solid start. Pakistan are in search of a breakthrough. #INDvPAK | #CWC19 pic.twitter.com/LVGxPYlNAF

— ICC (@ICC) June 16, 2019
16:06 hrs IST
India racing along
The partnership of 91 runs is now the highest opening wicket partnership for India against Pakistan: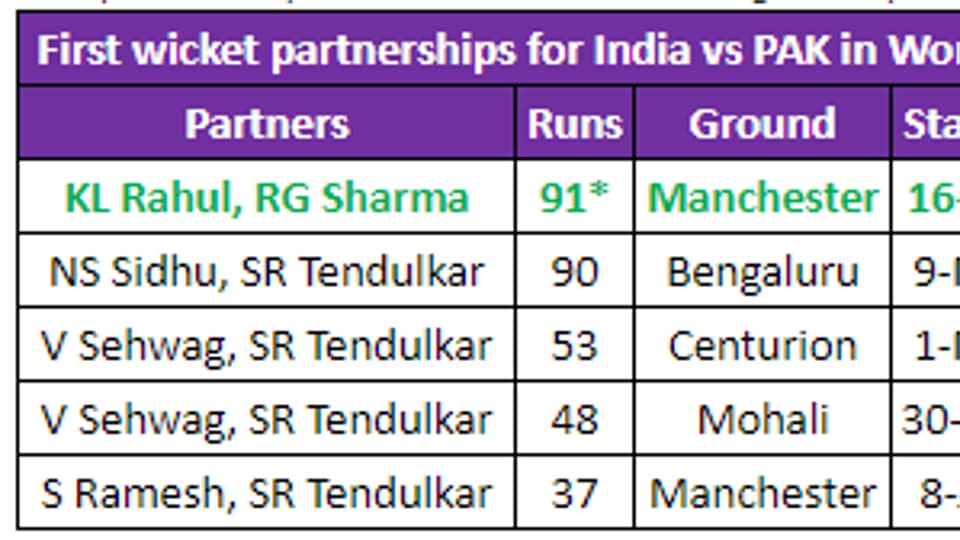 15:56 hrs IST
Rohit's 50: Stat attack
· 43rd ODI fifty
· 8th fifty+ score against Pakistan in 16 innings.
· 11th Indian batsman to score a fifty against Pakistan in a WC inning.
· 6th fifty+ score in WC.
15:53 hrs IST
50 for Rohit
Shabby start from Shadab, he has been taken to the cleaners by Rohit and Rahul. Rohit has brought up his 50 off 34 balls, India have found momentum and Pakistan are under some real pressure here. This has been some display of batting
15:48 hrs IST
Rohit, absolute poetry
He is stamping his class at Old Trafford, India have hummed past 50. There is some confusion in running, but then India will be thrilled with this start. And now Rahul is playing it smartly against Imad with his array of strokes
15:43 hrs IST
Not very good by Pakistan
The throw has been chucked to the wrong end. Rahul has clipped a ball towards mid-wicket and rushes acorss for a couple of runs. Rahul was no interested. Fakhar picks up the ball but throws towards the bowler's end. Both batsmen are safe.
15:36 hrs IST
Poor bowling
Pakistan bowlers, barring Amir, has been bowling too short and they have been taken to the cleaners by Rohit Sharma. After a watchful start, India have now got off to a perfect start. Pakistan under pressure, Imad Wasim is into the attack
15:28 hrs IST
Rohit, you beaut
Short and wide, Rohit stands tall, creams it past a diving cover. Hasan Ali then bangs one short, Rohit is still on the front foot and with a languid swing of the bat pulls it over deep mid-wicket. Magic, absolute magic from Rohit Sharma
15:25 hrs IST
2 warnings for Amir
Amir has been warned twice in three overs for running on the pitch. One more warning and he is off. This is bizarre, he has to be careful now or else Pakistan will be dealt a huge blow
15:14 hrs IST
Amir on point
He is the big threat and he has been on point so far. Both Rohit and Rahul are watchful which should be the way they approach this innings. The sun has started peeking through, well, this was the forecast for the day!
15:05 hrs IST
Steady first over
No significant swing on offer, Rahul was very watchful and sees off a maiden. It was a concerted effort to pitch the ball up to extract any movement!
Hasan Ali with the ball at the other end.
15:01 hrs IST
Amir with the new ball
He is a huge huge factor. He will shape the ball, the Pakistan fielders have to hold on to their catches, this is a good surface. Let's go.
15:00 hrs IST
KL Rahul, Rohit Sharma
What an occasion this is for KL Rahul to stride out and open the innings for his side. Rohit Sharma is a man in form, he has to dig deep and drop anchor
14:53 hrs IST
The Amir-threat
As India get ready to face off their arch-rivals Pakistan in World Cup 2019 on Sunday in Manchester, they will have to be wary of seamer Mohammad Amir. The left-armer, who picked up his maiden five-wicket haul in the ODIs in the previous encounter against Australia, is currently the leading wicket-taker in the tournament. The fast bowler has picked up 10 wickets in 3 matches at an average of 12.30.
14:41 hrs IST
Playing XIs
India (Playing XI): Rohit Sharma, KL Rahul, Virat Kohli(c), Vijay Shankar, MS Dhoni(w), Kedar Jadhav, Hardik Pandya, Bhuvneshwar Kumar, Kuldeep Yadav, Yuzvendra Chahal, Jasprit Bumrah
Pakistan (Playing XI): Imam-ul-Haq, Fakhar Zaman, Babar Azam, Mohammad Hafeez, Sarfaraz Ahmed(w/c), Shoaib Malik, Imad Wasim, Shadab Khan, Hasan Ali, Wahab Riaz, Mohammad Amir
14:40 hrs IST
Kohli speaks
We would have bowled first to be honest. Wicket looks really nice though and we have two wrist spinners in our team. We will be in good stead if we bat well.(On 800,000 applications for tickets and over a billion viewership for this match) That's the kind of attention this game brings but that's all is outside the ropes. Once you enter the field it is all about playing the game which you have played from the childhood. The team that holds their nerve in the big match usually wins. We have been playing good cricket and we don't want to tinker much with the team combination. We have one forced change, Shikhar misses out and Vijay Shankar comes in his place. He is a solid batsman
14:40 hrs IST
Toss
Sarfaraz has won the toss and he will bowl first. Kohli said he would have done the same.
Sarfaraz Ahmed: We will bowl first. It has been raining so conditions are good for bowling. We have quality spinners and we have backed them today. We are not thinking about 6-0.
14:23 hrs IST
Pitch report
"Dry underneath, but on top there's a hint of moisture. Get through the new ball and both teams can capitalise," says Michael Clarke. Both sides will look to bowl, with an eye on the weather possibly.
13:56 hrs IST
Pitch, surface, yes see it
Canvas for the big game between India and Pakistan.

Win the toss and ? #CWC19 pic.twitter.com/6KvIoLlFal

— BCCI (@BCCI) June 16, 2019
13:37 hrs IST
Gloomy but dry
Are we ready for this?#TeamIndia #CWC19 pic.twitter.com/wyT1DB5fZZ

— BCCI (@BCCI) June 16, 2019
13:19 hrs IST
Pakistan PM Imran Khan has something to say
Pakistan Prime Minister Imran Khan on Sunday offered his best wishes and advices to Pakistan cricket team for the highly-anticipated India clash, which is set to take place on Sunday. In a series of tweets, the 1992 World Cup-winning captain described Sarfraz Ahmed as a "bold captain" and asked him to be his "daring best" against the arch-rivals.
He had plenty more to say. Read here.
13:12 hrs IST
India's predicted XI
The stage is set for the highly anticipated clash between India and Pakistan at the ongoing World Cup tournament. The two teams will face off against each other on Sunday in Manchester.
Here is India's predicted XI for the match.
12:53 hrs IST
A great rivalry
"The emotion, the colour, the noise – it's all there. It's incredible."

India versus Pakistan. The great rivals meet again. #TeamIndia #WeHaveWeWill #CWC19 pic.twitter.com/iFG52CbNeS

— ICC (@ICC) June 16, 2019
12:41 hrs IST
And then there is Chris Gayle
The left-handed batsman shared an image of himself wearing an "India-Pakistan suit", featuring colours from national flags of both the teams on his official Instagram page.
Yup! I'm rocking my india 🇮🇳 Pakistan 🇵🇰 Suit, all love and respect!😉 ✌🏿... I really love it and this will be one of my outfit at my birthday party September 20th 😁...its lit 🔥 👌🏿🕺🏾🥂 #FashionOverStyle #UniverseBoss… https://t.co/GnXrSBiSqa

— Chris Gayle (@henrygayle) June 15, 2019
12:39 hrs IST
Weather update
Manchester is dry ... The biggest game in Sport will be happening ... #CWC19 🇮🇳 🇵🇰

— Michael Vaughan (@MichaelVaughan) June 16, 2019
12:19 hrs IST
Dhoni doing Dhoni things
The bond between M S Dhoni and Karachi-born Mohammad Bashir aka 'Chacha Chicago' blossomed during the 2011 World Cup semifinal between India and Pakistan and it has only grown stronger since then.
Such is the bond that Bashir has flown in to Manchester from Chicago (approximately 6000 kms) for Sunday's high-octane Indo-Pak contest without a match ticket. He knows that Dhoni will ensure that he is it at the Old Trafford when the first ball is bowled.
12:09 hrs IST
Scenes back in India
Special 'Aarti' performed in Varanasi ahead of #IndiaVsPakistan match in Old Trafford, Manchester later today. #CWC19 pic.twitter.com/rDao4vhNbT

— ANI UP (@ANINewsUP) June 16, 2019
12:07 hrs IST
Timely start expected?
A patch of blue in the sky. Forecast has improved according to BBC weather. Light showers expected post 3 pm. We could well get a timely start. So now, sit tight, cross your fingers and relax.
12:04 hrs IST
Kohli offers perspective
"The game starts at a certain time and finishes at a certain time. So this is not going to last a lifetime, if you do well or even if you don't," Kohli was at his pragmatic best during the pre-match interaction.
11:51 hrs IST
India have all bases covered
However, on current form, Bumrah, Kumar and Pandya (maybe Shami too if conditions on the day merit it) are a potent force, one that could conceivably do match threatening damage bowling first. These 10.30 starts, especially if it is overcast, can encourage captains to go for the early advantage, and one can imagine either side relishing at least some movement off the seam.
David Gower explains.
11:00 hrs IST
Has India-Pakistan been reduced to a no-contest?
It was a humdrum match in Sydney, but the ball had been set rolling. Since then the Indo-Pak contest, fuelled by expanding cable TV penetration and the peculiar blow-hot-blow-cold political relations between the two nations, has become the blue riband match of the tournament.
Why this fixture has not been able to live up to the billing!
10:59 hrs IST
Sunil Gavaskar slams ECB
"Well, ECB (is responsible). ECB is the one that runs the game here. The Lancashire County Cricket Club comes under its jurisdiction. So it's the ECB's responsibility."
Gavaskar was indeed furious.
10:45 hrs IST
Sachin's advice for Kohli, Shastri
India's cricketing legend Sachin Tendulkar on Friday said that the men in blue should not be "overconfident" going into the crucial clash against Pakistan on Sunday in Manchester. India have a 6-0 record at the World cup against their neighbouring rivals, but suffered a massive 180-run defeat by the opposition in Champions trophy final in 2017.
He had few more things to say.
10:44 hrs IST
India-Pakistan all time XI
Three members from the current Indian World Cup squad, made it to the Vaughan's all-time India-Pakistan XI. However, there was no one from Pakistan's current team in the World Cup.
Find out about his team here.
10:41 hrs IST
Game and not a war
With passions running high among both fanbases and political relations between the countries extremely tense, Wasim said the match should be enjoyed rather than used to inflame the situation.
Wasim Akram had an appeal to make to the masses on either side of the border.
10:39 hrs IST
Hype and all that
The South Asian neighbours, who share a history of brotherhood and bloodshed, will meet Sunday in a long-awaited group stage clash in Manchester.
Tapping into the frenzy, the "world's largest bat" was unveiled in the southern city Chennai, and a popular Indian rapper who goes by the name Divine was set to perform to his viral 'SockThem' World Cup-themed song in Manchester Saturday.
The clip has been viewed 32 million times on YouTube so far.
10:38 hrs IST
Virat Kohli on the Amir impact
"I am not going to say anything for TRPs," Kohli said in the pre-match presser in Manchester.
He was at his vocal best, read everything which the Indian captain had to say here.
10:36 hrs IST
What does the weather say?
There is so much at stake, and even if the teams take it as a contest, it is not quite a game played with bat and ball. And then there is the weather, the dour, fickle English weather and more eyes will be looking upwards at the skies on the day.
The rain stopped in the late afternoon in Manchester, but made sporadic appearances right through the day. The outfield, which for some reason was not covered, are soggy and there are patches of puddles on the field which can be a huge concern. The drainage system at Old Trafford will be put to the sword if the rain abates.
Find out more about the forecast here.
10:34 hrs IST
India take on Pakistan, both teams take on the weather
Virat Kohli did not want to be drawn into the hype surrounding the match, he wanted the match to be played just like any other match. Well, Kohli is boisterous and even wants his side to take this game as a routine affair between bat and ball. But then that's just Virat Kohli, captain of a side which seems to have all the bases covered. For Pakistan though, the mood was reflected when Mickey Arthur revealed he challenged his side to rise, seize the day and be heroes. Two contrasting camps, with a volatile history, united in their worry about the inclement weather which could well make everything else seem not so significant. This is India vs Pakistan and after all the facade, it goes well beyond any normal game.