India's 2007 T20 World Cup-winning pacer Joginder Sharma retires from all forms of cricket
Feb 03, 2023 01:09 PM IST
Joginder Sharma represented India in 4 ODIs and 4 T20Is. He, however, never played for India after the T20 World Cup final.
Joginder Sharma, a member of India's 2007 T20 World Cup-winning squad, announced his retirement from all forms of cricket on Friday. The right-arm pacer took to Twitter and Instagram to make his decision public. "Today with immense gratitude and humility I announce my retirement from all forms of International and domestic cricket. my journey from 2002 to 2017 has been the most wonderful years of my life honour representing India level of sport," he wrote in a letter addressed to BCCI secretary Jay Shah.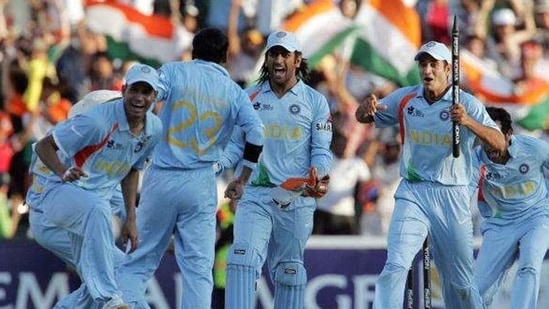 Sharma, who will forever be remembered for bowling the last over of the inaugural T20 World Cup final against Pakistan. Despite conceding a six, he came back to dismiss Misbah Ul Haq and take India to victory. That then-captain MS Dhoni trusted him to bowl the last over, who had made his T20I debut a few days ago in a must-win match against England despite having an over of experienced Harbhajan Singh up his sleeves, spoke volumes of the trust he had in Sharma.
The pacer represented India in 4 ODIs and 4 T20Is. He, however, never played for India after the T20 World Cup final.
"I am grateful for the opportunities given to me by the BCCI wicket Association Chennai Super Kings and the Haryana government to all my teammates coaches Mentos and support staff absolute privilege to have played with you all for helping turn my dream into reality.
"To all cricket fans that have supported me through the ups and downs of International sport: I will forever cherish the moments I spent with you all. Your support has always been a source of motivation for me.
"Lastly, I would like to thank my family and friends for their conditional love and support throughout my career they have been my backbones and without them, I would not have been able to achieve what I have today."
Sharma, who last played in the Legends League Cricket, said he will 'explore opportunities in the business side of cricket'.
"I am excited to announce I will be exploring new opportunities in the world of cricket side of it also continue to participate in the sport that I love and challenge myself in a new and different environment I believe that this is the next step in my journey as a cricketer I look forward to this chapter in my life."