MS Dhoni 'topper in university where I am still studying' - Dinesh Karthik
Dinesh Karthik, whose sensational late-order blitz helped India pull off a tense chase in the Nidahas Trophy final against Bangladesh, said that he has learnt a lot from MS Dhoni and he should not be compared with the former India captain.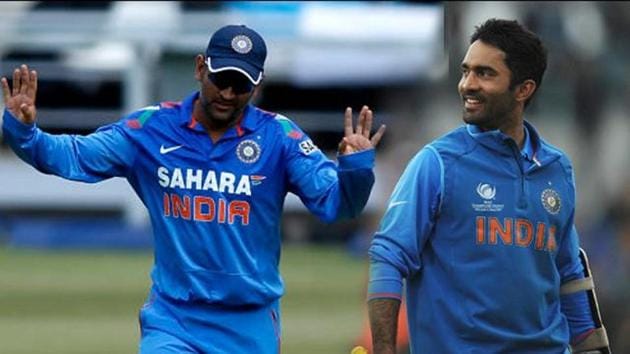 Updated on Mar 20, 2018 09:58 PM IST
Press Trust of India, Chennai |
Press Trust of India
Dinesh Karthik has become the toast of the nation with his 8-ball-29 against Bangladesh in the Nidahas Trophy tri-series final but he still feels like a "student in an University where MS Dhoni is a topper", when comes to the tag of a best finisher.
"When it comes to Dhoni -- I am studying in a university where he is the topper. He is one of the guys I have always looked up to. It is unfair to compare me with him," Karthik told journalists during an interaction, on Tuesday.
(Read | 'Dinesh Karthik has made a strong case for inclusion in India's ODI setup')
Interestingly, Karthik made his international debut in September 2004 during Champions Trophy in England, three months before Dhoni's debut against Bangladesh in a bilateral series in December.
In the next 14 years, Dhoni became India's most successful captain and one of its greatest limited overs exponent while Karthik struggled in the fringes, waiting for his chances.
(Read | Indian cricket team's flag gesture after Nidahas Trophy final wins Sri Lankan hearts)
"His (Dhoni) journey has been totally different and my journey is a different one. He is a terrific guy. He is somebody who used to be reserved, shy. Today, he is a person, who is really vocal in helping the youngsters. I feel these comparisons are very unfair. As I said, he is probably a topper in a university, where I am studying. I am just happy in the space I am in," Karthik said.
Having been around for a decade and a half, Karthik is finally enjoying his time under spotlight, something he has so richly deserved. He attributes it to his good karma and divine intervention.
(Read | Dinesh Karthik's heist, Vijay Shankar's struggles: Best moments of Nidahas Trophy final)
"It feels good that all the attention is on me. All the good karma and good things I have done over the years helped me hit that six. It is just that the shot went for a six... probably the two mm extra that it went for it became a six."
The feeling is yet to sink in and Karthik admitted it.
"It is hard for me to put in words. I am just happy to play this sport. When you play domestic cricket, it is a hard grind, To suddenly get so much attention feels so good but you also know that you want this to be a start of something special," he added.
(Read | Dinesh Karthik was upset when he was demoted to No. 7: Rohit Sharma)
Karthik also said the time spent with Mumbai cricketer Abhishek Nayar over the years had helped him strengthen the mental aspect of his game.
"He (Abhishek Nayar) has been the most important factor in the last two and half years in my career. He has helped me prepare for games. He has made me think in terms of strategy. He also knows what is the right way to work hard. He has been the river and I have been the boat," he added.
(Read | Harbhajan Singh introduces a new celebration after the success of 'Nagin dance')
Karthik also defended rookie Vijay Shankar who didn't have the experience of tackling Mustafizur Rahaman's slower deliveries.
"Vijay Shankar has the skill. He has done really well as a bowler. For someone, who is a batting all-rounder, he did well under pressure. I see a really good future for him. He has got a good attitude. He is a special talent and he has it in him to play for a long, long time," the 32-year-old stumper said.
He may have been a bit upset with Rohit Sharma's decision to promote Shankar ahead of him but lavished praise on Mumbaikar's style of captaincy.
"His (Rohit Sharma's) biggest strength is that he has won three IPLs as skipper and has immense belief in his ability to lead a team. He does a lot of homework. He is strategically very strong. He is a very thorough captain and is someone who is highly-skilled," Karthik said.
He has been named captain of Kolkata Knight Riders for the upcoming IPL and he would like to grow in stature after the platform that Nidahas Trophy has provided him.
"(The forthcoming) IPL is extemely imporant. It is a fabulous tournament. Indian cricket is where it is because of the IPL. We get to rub shoulders with the best. On a personal note, it is very important tournament for me," Karthik said.
The feisty Karthik is excited about his new role and wants to live up to the legacy left behind by Gautam Gambhir.
"I am very excited about the captaincy role. May be, it is time for me to embrace captaincy. The team has a very good bowling attack. I have to sit down with the coaches and see where I need to bat," he added.
About the return of CSK and Rajasthan Royals, he said it will be a totally different dynamics to the tournament.
"CSK and Rajasthan Royals bring a totally different dynamics to the game. I am sure it is going to be a fabulous tournament," Karthik said.
Close Story
Personalise your news feed. Follow trending topics