S. Sreesanth eyes cricket return after Kerala High Court lifts life ban, BCCI guarded
S. Sreesanth was banned for life from cricketing activities by the BCCI in the wake of the sensational 2013 Indian Premier League spot-fixing case. After Kerala High Court revoked the ban, the pacer wants to return to Kerala Ranji team.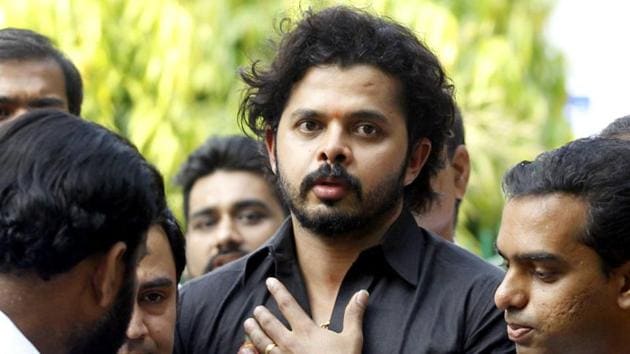 Updated on Aug 08, 2017 12:04 AM IST
The Kerala High Court on Monday revoked the Board of Control for Cricket in India (BCCI) decision to impose a life ban on former Indian cricket team speedster S. Sreesanth. Last year a special court in Delhi had acquitted him in the 2013 Indian Premier League spot-fixing case.
After the verdict, S. Sreesanth had approached the BCCI to remove the 2013 ban but his plea was turned down. Later, he approached the Kerala High Court saying that though the court had given him a clean chit, the cricket body continued to harass him. He also pleaded that his sports career was getting ruined because of the ban.
READ | S Sreesanth gears up for release of 'Team 5'
"He was acquitted in the case. Then how can the BCCI impose a ban on him? It is denial of natural justice," the High Court observed while revoking Sreesanth's ban.
Talking to newsmen, Sreesanth (34) said his first priority was to get into the Kerala team. He said he was physically fit and hit the ground soon.
"Many people supported me in thick and thin. They stood with me. I am really indebted to them and I will not let them down," he said in Kochi.
BCCI's wait-and-watch policy
Meanwhile the BCCI chose not to react to the court order. Asked about the BCCI's stand, acting president C K Khanna said: "The judgement has come today. The BCCI's legal team will study the judgement and give its observations. Obviously, their feedback will be taken and placed at an appropriate forum (general body)."
In May 2013, Delhi police had arrested Sreesanth and two of his Rajasthan Royals teammates, Ajit Chadilia and Ankit Chavan, on charges of spot fixing. Later, the BCCI had imposed a life ban on him.
"It is a really good news for me. I will back in the field soon," he said after the verdict.
BCCI vice-president TC Mathew said personally he was of the view that the BCCI should not go in for an appeal in a higher court.
READ | IPL 2017 betting probe revisits past dark chapters
During the hearing BCCI contended that the decision was taken by the former administrative committee of the body and the new committee can't take a decision on this. Subsequently, it had denied S. Sreesanth a no objection certificate (NOC) to play the Scottish League.
Kerala Cricket Association happy
The Kerala Cricket Association also lauded the verdict. "He's our own player and we supported him all along. We will take a positive decision soon," said KCA president Vinod Kumar.
Though the swing bowler was out of action in the last four years he was active in cine world and politics. In last assembly election he was the BJP candidate from Thiruvananthapuram Central constituency and lost to Congress candidate V S Shivakumar. His multi-lingual film "Team 5" was released only last week.
Sreesanth has taken 87 wickets in 27 Tests and 75 wickets in one-day internationals. Spinner Harbhajan Singh had slapped him after one of the matches of the Indian Premier League.
"He loves his game more than anything else. I love to see a roaring out swinger from him," said his wife Bhuvanesh Kumari.
(With PTI input)
Close Story
Personalise your news feed. Follow trending topics