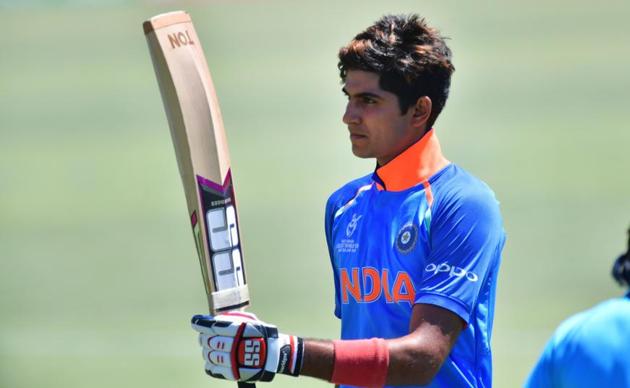 Shubman Gill's family revels in his ICC Under-19 Cricket World Cup show
Shubman Gill's family was elated after the 18-year-old batsman's unbeaten 102 set up India's 203-run thrashing of Pakistan in the ICC Under-19 Cricket World Cup
UPDATED ON JAN 31, 2018 03:36 PM IST
The May Fair housing society in Sector 70, Mohali, on Tuesday morning was buzzing with activity. OB vans, shutterbugs, relatives and friends thronged the society and aimed at house no. 301 where the Gill family resides. (IND v PAK SCORECARD | MATCH REPORT)
The reason: Shubman Gill, who had been bought by the Kolkata Knight Riders (KKR) in the Indian Premier League (IPL) auction for a whopping Rs 1.8 crore, had hammered an unbeaten 94-ball102 to help India beat arch-rivals Pakistan in the semi-finals of the ongoing ICC Under-19 Cricket World Cup at Christchurch's Hagley Oval cricket ground. The win booked India a berth in the final against Australia on February 3.
Beaming with pride, his father Lakhwinder Gill attended every journalist, friend and relative.
"This is very (big) new to us. I started receiving calls from people around 6 o' clock in the morning enquiring about our address. Shubman has done India and us proud with his match-winning knock. I still remember how much flak I got when I left my village and my aging parents for his cricket. Today, people from the village are feeling proud. We are thankful to god," said Shubman's agriculturalist father, who revealed that the 18-year-old batsman had been preparing for the World Cup with serious intent for two years.
"Coach Rahul Dravid has played a big role in shaping up this U-19 set of players. Shubman has looked up to him all this while. He was not much keen on knowing what happened in the IPL auction, whether he was sold or not. In fact, he was thinking about the semis tie against Pakistan.
"He is not much expressive on the field. But I guess, because the opposition was Pakistan, he was pumped up and exulted in joy after reaching the three figures. A bit of aggression was seen from him. He has told me that he will get the World Cup back home. And when that happens, we will be prepared in a better way to host everyone," added Lakhwinder Gill.
Vice-captain Shubman stood out among the batters and became the first batsman to score a century in the ongoing World Cup on Tuesday. He has been India's most successful batsman in the mega-event with 341 runs under his belt in four innings, at a staggering average of 170.50.
During the post match presentation, Shubman credited his father and best friend Khushpreet for his achievements. "I will be cooking some Punjabi delicacy when he returns home. He deserves a treat after such performances. I hope he is able to find some time and prepare for his XII exams," said his mother Keerat Gill.
Close