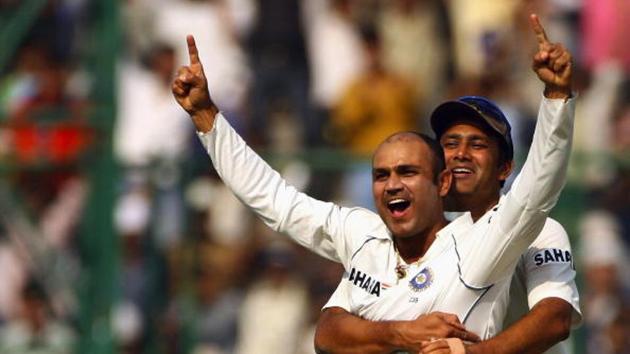 Virender Sehwag reveals Waqar Younis' failed ploy to deny Anil Kumble 10/74 feat
Virender Sehwag revealed how Pakistan's Waqar Younis wanted intentionally get run out during the Feroze Shah Kotla Test so that Anil Kumble can never get to 10-for figures in one innings.
UPDATED ON FEB 08, 2017 01:34 PM IST
Virender Sehwag has a special liking for Pakistan cricket team and their players. Not only has he enjoyed scoring a triple hundred on their soil, but he often baffles them with friendly banter on social media.
On the 18th anniversary of Anil Kumble's historic 10 for 74 haul in an innings against Pakistan at the Feroze Shah Kotla, Sehwag, however, was in a different mood. Leaving aside his usual tongue-in-cheek tone, Sehwag was all praise for former Pakistan captain Wasim Akram.
Along came a revelation, about how Waqar Younis wanted to run out himself in the second innings of the Kotla Test so that Kumble can never achieve the 10-for figures in one innings. But thanks to Akram's honesty, Younis could never employ the trick.
For this gesture, Sehwag thanked Wasim Akram. "Kismat ke aage ,all saazish fail. Well done Wasim bhai. What a day it was at the Kotla by Anil bhai," the former India opener wrote on Twitter.
Sehwag attached a screen-shot of a news story which has a quote of Akram saying: "Kumble had got nine wickets and me and Waqar (Younis) were batting in the crease. Waqar came to me and said 'How about getting run out?' so that Kumble does not get his 10th wicket.
"I said 'You can't deny him the feat if he is destined for it. But I can assure you that I'm not going to give my wicket to Kumble'," Akram said. "But subsequently it was me who gifted my wicket to Kumble,'' Akram added.
Kumble's record
On February 7, 1999, Kumble became only the second bowler after England's Jim Laker to pick all the 10 wickets in an innings. No third bowler has been able to repeat the feat – in the last 18 years.
In the two-Test series in 1999 against Pakistan, India had lost the first match to their arch-rivals. The second Test in Delhi thus turned into a must-win game for the hosts.
Batting first India scored 252 before bowling out Pakistan for 172 in the first innings. The hosts piled on the visitors' misery by scoring 339 in the second innings.
After being set a target of 420, Pakistan was under pressure. However, they just needed a draw to clinch the series. They were also well-placed at 101/0 and then, started the carnage by Kumble, post lunch.
Kumble took 20.3 overs to scalp the 10 wickets and guide India to 212-run victory as Pakistan was out for 207 runs. It was also India's first win over Pakistan since 1979-80.
Close