A wake-up call to save Ganga: Why HC banned river rafting, paragliding in Uttarakhand
There have been allegations that in a mad rush to make money, security of rafters is often compromised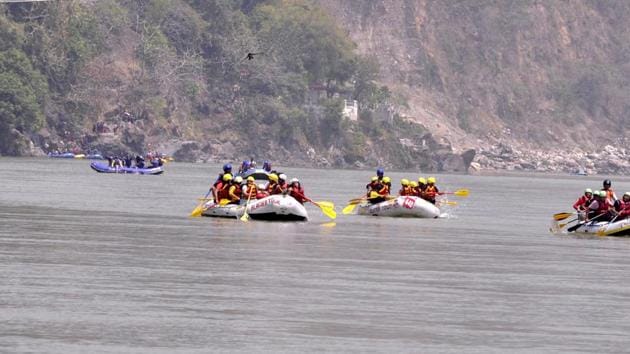 Updated on Jun 23, 2018 08:26 AM IST
On May 14, a video and photos that went viral on social media showed a few tourists from Haryana boozing in their SUV that was parked in 2-3-foot-deep Ganga waters in Rishikesh. Passersby spotted the tourists and complained to the police.
On June 5, five tourists from Haryana were arrested on charges of drinking alcohol on the Triveni ghat of the Ganga in Rishikesh.
Young tourists, mostly from the National Capital Region, Haryana and Punjab, visit Rishikesh for rafting. In 2014, Rishikesh-based social activist Hari Om Kashyap filed a petition before the Uttarakhand high court, underlining that rafting in Ganga waters is carried out without any law. A division bench of the court, in its order on Thursday, said sanctity of river is compromised as people are seen (in photos) drinking alcohol on the riverside and partying.
The court banned rafting until a policy is framed to regulate water sports. The order, which also covers paragliding, has come as a shocker to the adventure sports industry.
Rafting in Rishikesh started in the early 1980s and became a huge industry by 2013. Though no official figures are available, rough estimates suggest that 2 to 3 lakh people come every rafting season; rafting is discontinued between July and September. The white water rafting industry is pegged at Rs 75-80 crore annually.
With over 300 rafting operators on the 36-km Kaudiyala-Rishikesh belt, the competition among them is stiff. At times guests are lured by offering as low as ~500 per head. A raft can carry up to 7-8 people and there are nearly 1000 rafts.
"Rafting and beach camping are two components of the adventure sports," said Ratan Aswal, earlier involved in beach camping. The National Green Tribunal (NGT) banned beach camping in Rishikesh in 2005. Though it was revoked in 2017, the forest department is yet to allow beach camping sites.
"Earlier, beach camping sites mushroomed and now there are numerous rafting operators. At times security protocols are overlooked. This would have never happened had authorities ever intervened," he said.
There have been allegations that in a mad rush to make money, security of rafters is often compromised. In January this year, a tourist from Delhi drowned in the Ganga while rafting. In May last year, a Delhi tourist died while rafting. The court also mentioned about people dying while rafting.
Gulshan Kumar, a rafting operator, said, "Adventure sports have some degree of risk though we make every effort to ensure the safety of guests." Sub-divisional magistrate (Narendranagar) Lakshmi Raj Chauhan, who monitors rafting activities, said: "I will have to go through the court order before commenting."
Environmentalists expressed happiness over the court order. Anil Joshi, a Padamshree who heads Doon-based Himalayan Environmental Studies and Conservation Organisation, said Uttarakhand was adjusting more tourists than its carrying capacity. The court order needs to be looked from a different perspective. The court has stressed the need to regulate (rafting) business, he said.
"Now the ball is on the government's court. It is time to ponder why NGT and court have to step in to save the Ganga. On weekends, it looks as if there is a raft jam all over the river. This would not have happened if there was a policy to regulate tourist traffic and operators."
Mukesh Semwal, a rights activist from Srinagar (Garhwal) echoed similar sentiments. "The court order is crucial, but it has also to been seen that those (rafting operators) following regulations are not harassed."
The court order also talked about paragliding, another happening adventure sport. Unlike Himachal Pradesh where paragliding is widespread, the sport is held in Nainital district in Uttarakhand. Nine operators cater to nearly 300-500 guests per day in Nainital. Paragliding has been going on there since 1992.
This year a tourist, Raj (known by his first name), from Delhi sustained fractures while paragliding in Naukhuchiyatal (Nainital).
Girish Brijwasi, an instructor, told over the phone that minor and sometimes major accidents happened.
"Why blame paragliders in Uttarakhand when accidents are common in other states as well? The problem is we lack an institute to train operators professionally," Brijwasi said.
Paragliding is a sport in which a wide canopy resembling a parachute is attached to a person's body by a harness to allow him to glide through air after jumping from a height.
Close Story