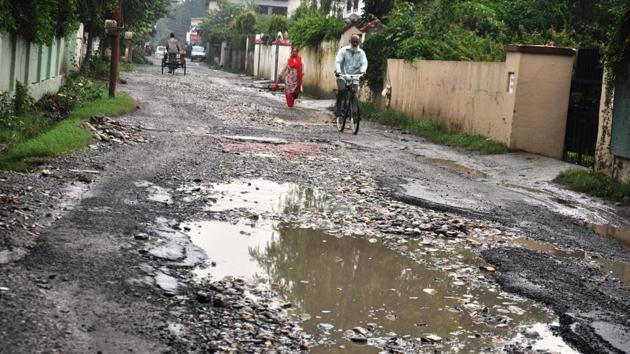 Government wakes up to potholes a day after they claim two lives in Doon
The negligence of the public works department(PWD) in Dehradun led to the death of two women on Sunday who lost balance after their two-wheeler hit a pothole on Rajpur Road.
UPDATED ON AUG 07, 2017 08:06 PM IST
The government machinery woke up to the menace of potholes on Monday, a day after they claimed the lives of two women in a road accident in Dehradun. According to the police, two women, aged 29 and 23, had lost balance after their two-wheeler hit a pothole on Rajpur Road and were eventually crushed by an oil tanker on Sunday.
Expressing strong displeasure over the 'lackadaisical approach' of public works department (PWD) over the issue, chief minister Trivendra Singh Rawat on Monday directed the PWD officials to fill the potholes on roads across the state urgently. "Potholes are filled with water during rainfall, which further increases the risk of accidents. Roads should be made free of potholes, and they should be repaired in a way that the public doesn't have to face troubles again," said Rawat. Following his directions, PWD engineer-in-chief, H K Upreti shot off letters to chief engineers of Dehradun, Tehri, Pauri, Haldwani, Pithoragarh, Almora and national highways directing them to get the potholes filled in their respective areas.
"We had issued directions to the officials (for repairing roads during monsoons) in the past. The roads are getting damaged very soon due to the heavy rainfall these days. We have now asked them to inspect and fill the potholes as soon as the rain ceases to ensure smooth traffic flow on roads. This will be followed by tarring of roads once the weather improves," said Upreti.
"Many roads in Dehradun are perpetually filled with potholes and the situation has further worsened due to the monsoon. Why do the CM or the officials have to wait for someone to die for them to take some action," said a friend of one of the deceased girls.
According to the police, over 490 people have died and 922 have been injured in 1106 road accidents in Dehradun district since 2014 till June, 2017. This year, over 125 road accidents have taken place in Dehradun so far, in which 79 people have lost their lives till July. Though the police officially booked the driver of the tanker for causing death by negligence, Dehradun superintendent of police (traffic) Dhirendra Gunjyal said, "The traffic police regularly updates the departments concerned, including the PWD."
Demanding a high-level probe in the matter, Dehradun city Congress president Prithviraj Chauhan, said that their party have raised the matter with respective government agencies but to no avail. "Neither the CM nor any other VIP took cognizance of the damaged roads before the accident. This reflects their lack of sensitivity," said Chauhan.
Close