Hunter guns down leopard that 'killed' 2 kids in Uttarakhand
A suspected man-eater leopard aged around three and half years was killed by a hunter on Sunday in Bageshwar district, forest department officials said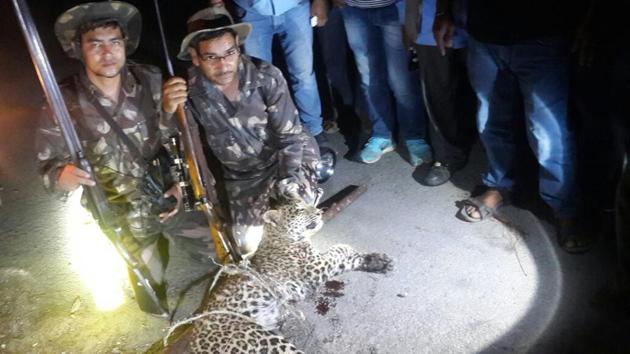 Published on Jun 17, 2018 10:07 PM IST
A suspected man-eater leopard aged around three and half years was killed by a hunter on Sunday in Bageshwar district, forest department officials said.
They said the leopard was suspected of killing two children this year. The department has deployed hunter Lakhpat Singh on June 12, a day after a 7-year-old boy was killed in a suspected animal attack.
Lakhpat Singh, who gunned down the leopard, said it was his 50th kill of a man-eater. He had killed man-eaters across the state after being assigned by the department.
The boy's half eaten body was recovered in the forest close to Harinagari area of Bageshwar district. Angry villagers even set a forest afire resulting forest officials to swing into the action.
RK Singh, divisional forest officer (DFO), Bageshwar told HT over phone that the hunter continuously traced the leopard and finally managed to kill it.
"The leopard is nearly 3.6 years old. The post-mortem was performed today (Sunday) itself and the report will come in next 2-3 days," the DFO said.
When asked how he was sure that it is the same leopard that killed the child, the DFO said: "The post-mortem will reveal whether it is the same (man-eater)."
"However, leopards usually do not changes their territory. The leopard was killed in the same forest where the half eaten body was recovered. So, it seems it is the same leopard," the official said.
It is also unclear why the leopard turned man-eater. Officials, however, hinted that lack of prey base in the forest led it to kill the two children in a gap of three months.
Uttarakhand is among states having highest prevalence of man-leopard conflict.
Close Story
Personalise your news feed. Follow trending topics