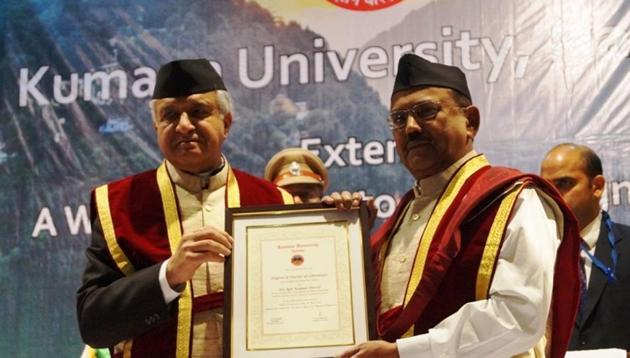 NSA Ajit Doval has a four-point mantra for success
National Security Advisor (NSA) Ajit Doval was on Friday conferred an honorary doctorate by the Kumaun University at the varsity's 14th convocation.
UPDATED ON MAY 18, 2018 10:43 PM IST
In a world where power-dynamics keep changing, only those would succeed, who can discern the changes happening right now, have a positive attitude, are attuned to the world around them and are ever-ready to learn from every person, situation and action, national security advisor (NSA) Ajit Doval on Friday said.
Doval shared his four-point mantra for success in his acceptance speech after being awarded honorary doctorate degree by Governor KK Paul during the 14th convocation ceremony of Kumaun University here.
Emphasizing that world and its power-dynamics were changing, Doval said, "First the reins of power were in the hands of those who were physically strong, then those who had had huge chunks of land, then those who had had big armies and lately those who own technology".
He said people who were not able to recognize the changes taking around them, remained unsuccessful. "Only those who can see the change and who see the world with a positive attitude, who think there is so much to learn and those who see positivity in every person and every action will succeed. Doors will close on those, whose attitude is negative," he said.
Addressing the students, Doval said 51 years ago, he had attended a convocation ceremony as a student after completing his post graduation. "I am hopeful that with knowledge that you gained here, you will fulfill your responsibilities in the coming time in an effective manner."
"But I have a question. What you learned here, is it good enough for next 50 years? What kind of world it will be? What kind of society it will be? Are you ready for that new world?" he asked.
Sharing a story, Doval said when Buddha was dying, his disciple Ananda asked who will show them the path after he leaves the physical body. "Buddha gave them a mantra — Appa deepo Bhava or be light unto yourself. In this world you can learn everywhere. If your mind is tuned, it will receive knowledge from every side," he said, adding, "be your own Guru and disciple".
On being granted the honorary degree, Doval said, "I was told about this honour over a year ago, but I was little reluctant. I am not from an academia. I have been an operational man throughout my life. I accept this honour with humility and gratitude."
Chancellor KK Paul said, "Today is a very special day indeed. The Kumaun University, by honouring our most distinguished son of the soil, Ajit Doval, has in a way honoured itself."
Chief minister TS Rawat in his address said a professor who taught in the US, once told him that Uttarakhand had great human resources, but there was lack of professionalism. He urged youth to develop entrepreneurial skills and professionalism and contribute in developing the state and putting a check on the migration out of state.
Close