U'khand police get wings, to use drones to drop medicines, monitor Maoists
Jul 07, 2018 10:30 PM IST
The Uttarakhand police department will soon deploy unmanned aerial vehicles (UAVs), commonly called drones, to deliver medicines in remote hilly areas in emergency situations, or monitor Maoist and other illegal activities in forests
The Uttarakhand police department will soon deploy unmanned aerial vehicles (UAVs), commonly called drones, to deliver medicines in remote hilly areas in emergency situations, or monitor Maoist and other illegal activities in forests, officials said.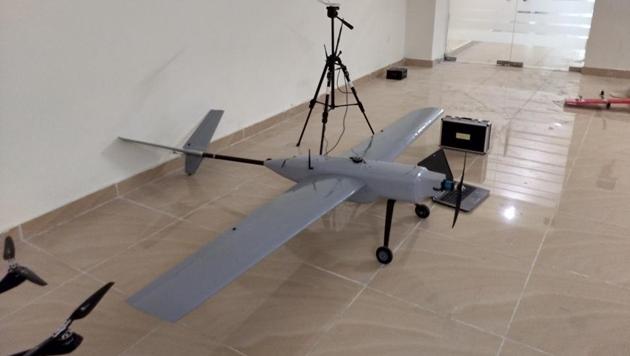 The project will take shape after the opening of the Drone Application Centre (DAC) at the Information Technology Development Agency (ITDA) here on July 9. Karnataka has been using drones since 2016 to check illegal mining.
Stay tuned with breaking news on HT Channel on Facebook.
Join Now
"The project was worked upon for the last six months and will finally touch the ground on July 9 with the inauguration of DAC," said Amit Sinha, inspector general (telecom) and ITDA director.
"In the initial stage, the department will have five drones, including a fixed-wing one and four quad-copters; more will be procured later," he said, adding that the National Technical Research Organisation (NTRO) helped them in materialising the project. A quad-copter is lifted and propelled by four rotors.
On Friday, some of the drones procured were tested at ITDA in the presence of police officials. "Drones will be particularly helpful during emergency situations in difficult terrains," Sinha said. "They could be used to deliver crucial supplies like medicines during disasters in hilly areas, or monitor rescue operations. They could also be used to keep an eye on Maoist activities, if any."
All the drones procured in the initial stage are made in the country with the help of Indian technicians and researchers, Sinha said.
"The fixed-wing drones that will be used for long-distance tasks are made of moulded themocol-type material to make them lightweight so as to increase the payload, which is at present up to 4kg," he said. "The quad-copters will be used for short-distance tasks. They will be equipped with HD and thermal-imaging cameras for monitoring purposes."
DAC will impart training to personnel of police wings for different applications. "DAC has a state-of-the-art simulator, which will be used to train the personnel who will operate the drones," Sinha said. "As the drones are costly equipment, they will be handed to the operators after their training on simulator. More drones are being developed at ITDA to be procured in future."