Uttarakhand fails to report even 1% increase in forest cover: Report
Updated on Feb 12, 2018 10:07 PM IST
Prakash Lakhchaura, director FSI, however, said that an increase in very dense forest category is an encouraging sign.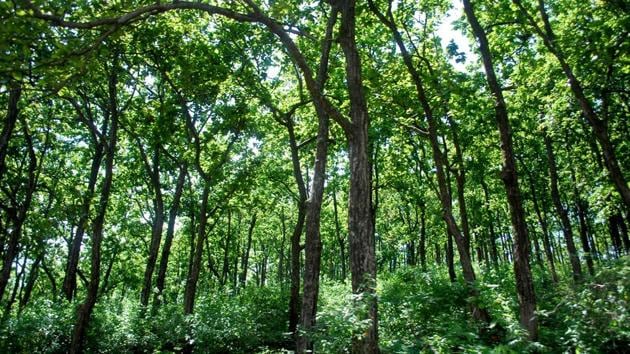 Dehradun: In the last two years, Uttarakhand could not report even one percent increase in its forest cover, shows the Forest Survey of India (FSI) report released on Monday in New Delhi, by Union forest minister Dr Harsh Vardhan. Only a marginal increase of 23 sq km forest cover was reported since 2015.
The latest report of 2017 has shown a meagre increase of 165 sq km in very dense forest and 636 sq km in other forest categories, while the moderate dense forest diminished with a difference of 778 sq km, leaving the total cover in state to 24,295 sq km. The revised assessment of 2015 survey has reported 24,272 sq km cover in state.
Prakash Lakhchaura, director FSI, however, said that an increase in very dense forest category is an encouraging sign. "Very dense forest is important as it locks maximum carbon. An increase of this type of forest is a positive sign," he said.
The main concern is moderate forest, which, according to Lakhchura, has degraded in past two years owing to developmental activities. "The moderate forest has shown a decline, which reflects that developmental activities have taken a toll on this section of forest," he said.
The work on Prime Minister Narendra Modi's pet project, All Weather Road, for connecting four shrines-Badrinath, Kedarnath, Yamunotri and Gangotri, began during this period, for which over 80% of nearly 50,000 trees have already been chopped along the route.
Under the Rs 12000-crore project, an 889-km road network will be built in eight districts in the state. The Centre has set a deadline of 2019 for completion of the project. A tunnel, 15 big flyovers, 101 small bridges, 3,596 culverts and 12 bypass roads will be reconstructed for smooth transit. 29 landslide-prone zones, which pose blockage to traffic movement, will be made secure.
The activists, however, are worried with the decline of moderate dense forest- which as per them, is slaughtered for developmental activities.
"The problem is that we lack ecological indicators that could continue giving us the feedback on the health of forest cover," Anil Joshi, Padam Shree awardee and noted environmentalist, said.
Joshi further added that the moderate forest acts as a cushion for very dense forest, and if developmental activities are taking place in this section, soon its implications could be seen on the dense network.
Dinesh Pandey, Haridwar based activist said, "It's time to realise whether we want roads or trees to survive."
The top five states where maximum forest cover has increased are Andhra Pradesh (2,141 sq km), Karnataka (1,101 sq km), Kerala (1,043 sq km), Odisha (885 sq km) and Telangana (565 sq km).
The present assessment also reveals that 15 states and union territories (UTs) have above 33 per cent of the geographical area under forest cover.
Out of these states and UTs, Mizoram, Lakshadweep, Andaman and Nicobar Islands, Arunachal Pradesh, Nagaland, Meghalaya and Manipur have more than 75 per cent forest cover, while eight -- Tripura, Goa, Sikkim, Kerala, Uttarakhand, Dadra and Nagar Haveli, Chhattisgarh and Assam have forest cover between 33 per cent and 75 per cent.
Personalise your news feed. Follow trending topics