Vehicles of top officials blatantly violate HC order on crash guards
Vehicles of top administrative officials and legislators in Uttarakhand continue to sport bull bars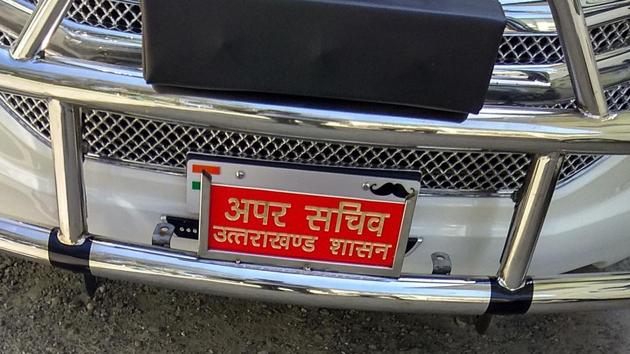 Updated on Mar 28, 2018 09:28 PM IST
In blatant violation of traffic norms, vehicles of top administrative officials and legislators in Uttarakhand continue to sport bull bars, used as crash guards, despite a notification by Centre asking the states to remove the external accessory from the four-wheelers.
It has been nearly four months since the Centre, in a letter on December 7, 2017, directing all state government to take action against unauthorised fitment of the bull bars on vehicles. No action, however, has been initiated against the VIPs in the mountain state.
Bull bars are external modifications made in front of and the rear of the vehicles and are installed both for beautification as well as a safeguard for vehicle during accidents and from scratches.
A scrutiny in Dehradun revealed that vehicles of several top-level bureaucrats -- secretaries, additional secretaries, joint secretaries, senior police officials, including SSP, STF; municipal commissioner, and directors – are continuing to use the bull bars. One can find a plethora of such vehicles during a visit to the secretariat and other government offices on any given day.
Earlier, the Delhi high court had banned the installation of the bull bars. The HC order had come on a PIL filed by two persons — Aarshi Kapoor and Sidharth Bagla — who contended that bull bars and crash guards offer protection to vehicles only at low speeds. At high speed impacts, they tend to prevent the deployment of the airbags. They also contended that crash guards being made of metal or steel, pose threat to the life of pedestrians.
Subsequently, the matter was examined by the Union ministry of road transport and highways, and referred to the technical standing committee of the Central Motor Vehicle Rule (CMVR).
On September 5, 2017, the committee concluded: "Fitment of crash bars as aftermarket fitment shall not be allowed on vehicles and that provisions CMVR also do not allow such fitment".
The Centre's directive in December categorically mentioned that the fitment of crash guards was in contravention of Section 52 of the Motor Vehicle Act, 1988 and attracts penalty (under sections 190 and 191) — a fine of Rs 1,000 for the driver for the first offence and Rs 2,000 for second or subsequent offences while the penalty for seller or deliverer could be Rs 5,000.
"It is therefore requested that states may take strict action against the unauthorised fitment of crash guard/bull bar on the motor vehicles," the Centre's directive read.
However, the transport department in Uttarakhand has failed to ensure that these illegal installations are removed from the vehicles.
Sunita Singh, additional commissioner, transport, said, "We have issued instructions to all government officials to remove crash guards from their vehicles."
Asked how despite instructions from the Centre, vehicles of senior officials continue to use crash guards, she said, "This is a new law. It will take some time to spread awareness and get the desired results."
Speaking in a similar vein, Kewal Khurana , DIG, traffic, said, "We will immediately write a letter to the heads of all departments to remove these modifications from their vehicles and comply with the law. We will also hold talks with the chief secretary in this regard."
Asked about the action traffic police plans to take against private vehicles, he said, "We will first issue a public appeal and give people one month's time to voluntarily remove crash guards from their vehicles. After this, the department will start issuing challans, as mandated by the law."
Incidentally, a manufacturer of bull bars challenged the Centre's notification in Delhi high court, following which a divison bench has asked the Ministry of Road Transport and Highways to examine the matter and directed that there would be no challans till April 18, the next date of hearing.
Close Story