Wildfire loss in March three times higher than last year
Wildfire has gutted more than 300 hectare of forest cover in Uttarakhand in March, the damage in a month being three times higher than that of last year, official data shows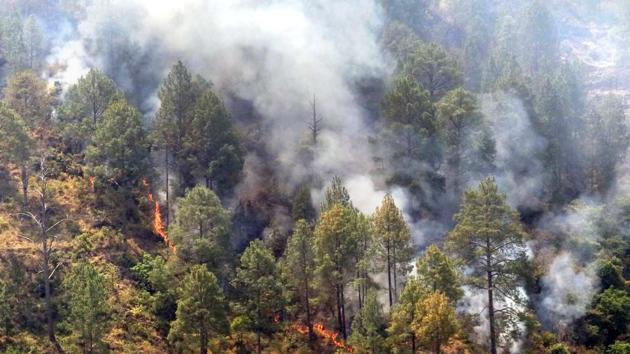 Published on Apr 01, 2018 09:33 PM IST
Wildfire has gutted more than 300 hectare of forest cover in Uttarakhand in March, the damage in a month being three times higher than that of last year, official data shows.
On March 29, forest fire destroyed computers, a printer, biometrics system and other infrastructure of a government high school at Chaukhutiya in Almora district. Students were in the playground when the incident happened.
According to forest department figures, 330.646-hectare forest cover has been damaged since February 15 when the official fire season began, leading to an estimated revenue loss of ₹5,87,155. In February, only 31 hectare was burnt posing a loss of ₹33,525. Nearly 300 hectare has been lost within 29 days this month, causing a loss of ₹5,53,630.
Last year, 100.35 hectare was damaged in March posing a loss of ₹1,72,963. In 2016, when the state reported the worst wildfire, only 43.15 hectare was burnt in March with a loss of ₹52,475, forest department data shows.
"Last year the state received rainfall in March, because of which the fire was controlled. But this year rainfall has been scarce since the winter season," said Vikram Singh, director of the meteorology centre in Dehradun.
The meteorology department has predicted that temperature will be on the higher side in coming days, but a short spell of thunderstorm is expected from April 4, Singh said.
"While the MeT department cannot give long-term predictions, it is believed showers will bring relief in April. The temperature will remain at an all-time high as per predictions."
In 2016, more than 4500-hectare forest cover was damaged, with 75% of the loss reported during April-May. Last year, 1251 hectare was burnt with maximum incidents in the two months.
"April and May are the two most sensitive months with regard to forest fire. We have made arrangements," said Jai Raj, head of forest force (HoFF). "Due to less rainfall, there's hardly any moisture content on the ground which is going to make things tough for us. But our staff and officers are ready to face the natural calamity."
Lack of moisture in the soil has also worried farmers. "My family depends on farming and there hasn't been any rainfall this year," said Surendra Singh Negi, a farmer of Kaljikhal block in Pauri district.
"No attention is paid to recharging the natural springs, owing to which there's no ground moisture. In addition, due to migration, the fields have gone dry and catch fire easily."
Close Story