16,500 trees: A huge price for south Delhi's redevelopment projects
Updated on Jun 17, 2018 10:11 AM IST
The environment impact assessment report for the projects around south Delhi shows that over 16,000 trees will be cut in seven areas, including Sarojini Nagar, Nauroji nagar and Netaji Nagar.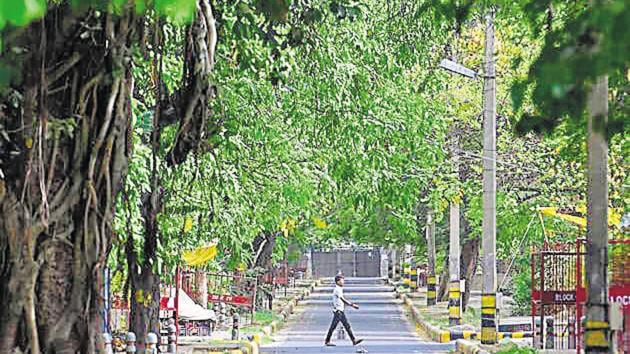 The residents of south Delhi are set to pay the price for the redevelopment projects around seven neighbourhoods, which include Sarojini Nagar, Nauroji Nagar and Netaji Nagar. The forest department has given the permission to chop off at least 16,500 full grown trees to make way for redeveloping of Central government accommodations in the area.
The environment impact assessment report for the projects around south Delhi shows that 11,000 out of 13,128 trees will be cut in Sarojini Nagar, 1,465 out of 1,513 will be cut in Nauroji Nagar, 3,033 out of the total 3,906 trees will be chopped off from Netaji Nagar and another 520 will be felled from Kasturba Nagar, which has a cover of as many trees. The figures for RK Puram are yet to be released.
In smaller neighbourhoods such as Thyagaraja Nagar and Mohammadpur 108 and 447 trees will be cut for the project, according to the environmental impact assessment (EIA) clearance. Experts and residents have raised alarm against such mass felling of these residential pockets, which are known to be the green belt of the city.
Padmavati Dwivedi, an activist, said that the chopping of full grown trees will leave a void in the city, which cannot be replaced by planting saplings at distant locations.
"If I am living in a particular area and the trees there are cut, how will planting saplings in another part help? These saplings will take years to provide the benefit that full-grown trees were giving," said Dwivedi.
Environment lawyer Aditya Prasad said that if the forest department, which comes under the Delhi government, wants they can reject the proposal.
"Delhi is governed by the Delhi Preservation of Trees Act and if they want they can reject the proposal. Compensatory afforestation is not a guarantee as there is no agency that is checking if the required number of trees is being planted or where they are being planted," Prasad said.
He also said chopping off these trees is not only a loss for the green cover but the wildlife in the space will also be affected by this.
As per guidelines by the forest department, any agency that is chopping trees for developmental projects need to plant saplings in an alternative location. For every full grown tree, 10 saplings are required to be planted.
According to an order by the National Green Tribunal (NGT) order issued in 2017, NBCC has been asked to transplant or relocate 186 trees from Netaji Nagar and Nauroji Nagar alone. The company will also deposit a cumulative security deposit of ?22.54 crore for compensatory afforestation.
NBCC chairperson Anoop Kumar Mittal said that the upcoming complexes will be developed as green spaces, with lush trees around these residential areas. "We have developed the New Moti Bagh complex, which is among one of the green spaces in the city. Similarly, in Kidwai Nagar, where we have almost completed the project, we have planted over 10 times of what had to be cut," Mittal said.