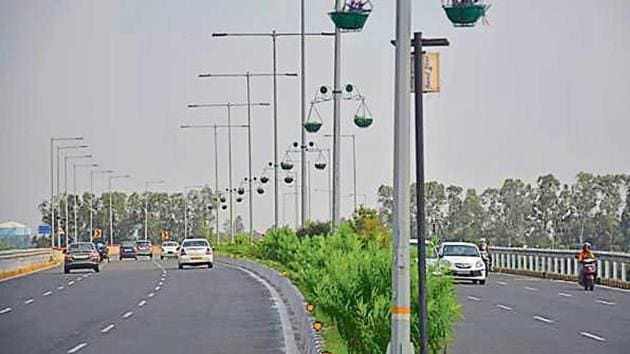 3MW solar power plant planned to light up for Hindon elevated road in Ghaziabad
The Ghaziabad Development Authority is in the final negotiations for setting up 3 megawatt (MW) solar power plant which will power nearly 700 LED lights installed on the 10.3km Hindon elevated road
UPDATED ON SEP 18, 2018 04:52 AM IST
The Ghaziabad Development Authority is in the final negotiations for setting up 3 megawatt (MW) solar power plant which will power nearly 700 LED lights installed on the 10.3km Hindon elevated road.
The power plant will help the authority save nearly Rs 6 lakh a month on electricity bills, officials said.
The engineering department officials of the authority said they received two bids for setting up the solar plant. The plant is also proposed to supply the electricity, which is left over after supplying 280 kilowatt required to illuminate the Hindon elevated road, to the grid.
"We received two financial bids. The negotiation with one of the two firms is presently on for revenue sharing (money generated by supplying power to the grid). The proposed plant is pegged at a cost of nearly ₹20 crore and the entire cost of installation will be borne by the private company," VN Singh, chief engineer, GDA, said.
The authority, at present, spends nearly Rs 6 lakh on electricity bills a month for illuminating the Hindon elevated road. The authority has planned that the 3 megawatt solar power plant to meet this requirement as well as earn revenue and thus recover the cost of setting up the plant.
"The power supply to the elevated road and the roundabout at Karhera are being done from five locations at present. The company will be required to take up installation of solar panels on a 5km stretch (both sides) of the elevated road. Once the negotiations are complete, the project will be given a final shape," an official of the authority's electrical department said.
The officials said the company's officials will also be holding a meeting with the officials of the discom to decide the power purchase agreement which needs to be signed if the electricity is to be provided to the grid.
Close