Ban on crackers may not save Delhi, bursting them certainly kills it faster
Updated on Nov 12, 2018 11:51 AM IST
Delhi's deteriorating air quality was the reason that the Supreme Court banned the sale and use of conventional firecrackers in the National Capital Region this year. However, a few hours into the celebration, the ban went up in smoke.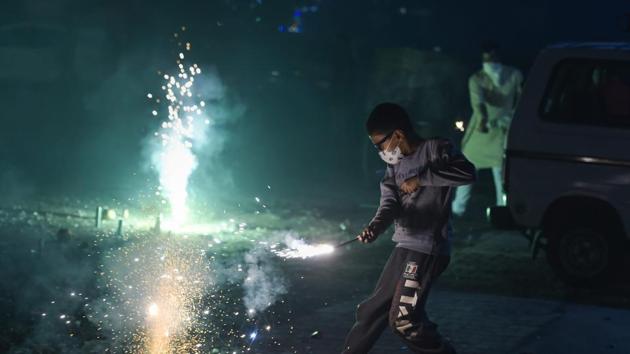 Bending rules is the rule of the game for most Delhi residents. This Diwali, they demonstrated that they could even turn suicidal in that pursuit.
This year, the Supreme Court banned the sale and use of conventional firecrackers in the National Capital Region for a good reason. Fuelled by gunpowder, firecrackers are the worst possible cocktail of toxins. Since Delhi's deteriorating air quality was already making headlines and trending on social media, one imagined that for once, citizens of Delhi would see sense in not poisoning the foul air further in their already choking city this Diwali.
However, a few hours into the celebration, the ban went up in smoke. Most people across the city, overcome by a strange self-destructive urge, found various ways to procure firecrackers illegally and burst them with abandon. Some people even wore pollution masks while bursting crackers, for good measure. Unsurprisingly, pollution levels on Diwali night were worse than last year's. Delhi has since been draped in unrelenting smog.
For a long time, many of us have played down health risks by justifying Diwali as a once-a-year celebration. But toxic fumes from the city's massive fleet of private vehicles, unchecked garbage burning, dust from construction sites and stubble burning in neighbouring states are already filling up our lungs. Diwali firecrackers could well be the proverbial last straw that breaks the camel's back.
Multiple studies have shown that foul air is compromising the lung capacity of children in Delhi. The latest one, released by the World Health Organisation last month and well publicised by the media, stated that in 2016, India recorded the highest number of air pollution-induced deaths of children below five years. Yet, on Diwali night, many people burst crackers because their "children liked them".
It is easy to blame enforcement agencies. However, Delhi Police did arrest as many as 310 persons for bursting crackers on the Diwali night. However, why do we need the police to stop us from damaging our lungs?
The argument that bursting firecrackers on the Diwali night is a tradition we must continue does not cut much ice. In fact, Diwali has traditionally been the festival of light. Fireworks, in any case, are a borrowed fad we seemed to have rapidly internalised. Gunpowder and fireworks were invented in China more than a thousand years ago. The Chinese believe that the loud sound from firecrackers drives away evil spirits, and burning them during the Lunar New Year is an age-old Chinese tradition. But that has not come in the way of even the proud inventor restricting their use to fight air pollution.
Unlike India, where such decisions have been left to the judiciary, it is the government that has banned fireworks in more than 400 Chinese cities and towns. Last December, the Beijing legislature prohibited fireworks within the fifth ring road and allowed them to be lit only in designated suburbs and at specific times.
"The low-key celebrations (during the Lunar New Year) were in stark contrast to previous years when the streets were crammed with Beijingers setting off firecrackers and the sky was lit by near-constant firework displays, unleashing a deafening thunder until dawn", the PTI reported from the Chinese capital in February this year.
A ban on fireworks is not easy on local businesses. In China, the largest manufacturer of fireworks in the world, a ban on crackers has forced many factories to shut shop. In India, however, government scientists have prepared prototypes for green crackers, which promise up to 40% reduction in emission. After getting the mandatory license from the Petroleum and Explosives Safety Organisation, the technology should be available to manufacturers for large-scale production.
The switch is not going to be easy. Barring a few big manufacturers, much of the fireworks industry in India is small-scale. Technology transfers, investment in new types of raw material and equipment, training workers as well as monitoring staff will be a big challenge. To clear their inventories, sellers will continue to push old stocks in the market, perhaps even next Diwali.
In the end though, it is the demand that will push production. Unless citizens themselves commit to a cleaner, healthier Diwali, no ban on crackers or switching over to greener versions will ever be successful. Foregoing fireworks on Diwali and other occasions will not end Delhi's air pollution. But bursting them will invariably make it much worse, every time. Delhi has to have a stubborn death wish to risk it for a lark.
Personalise your news feed. Follow trending topics