Bawana bypoll: Only AAP can ensure development, says Kejriwal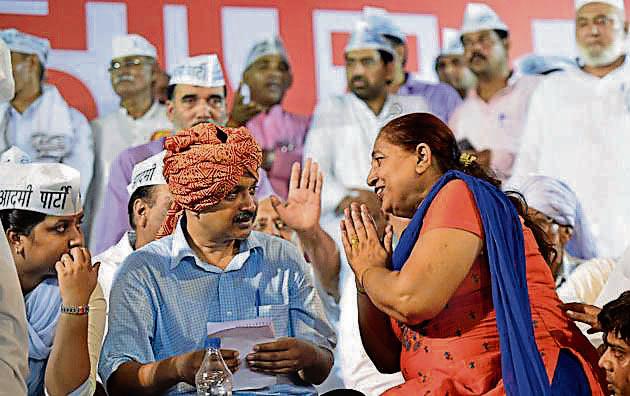 Published on Aug 13, 2017 11:36 PM IST
Hindustan Times |
, New Delhi
HT Correspondent
Chief minister Arvind Kejriwal on Sunday raised the stakes for the upcoming Bawana bypoll and said that only an Aam Aadmi Party (AAP) candidate could ensure development of the constituency.
The Bawana Assembly bypoll necessitated after former AAP legislator Ved Parkash quit the Delhi assembly ahead of municipal elections to join the BJP. It is scheduled to take place o August 23.
"AAP candidiate ko jitaiye, kyunki kaam to AAP sarkar ko hi karna hai (Ensure victory of AAP candidate as ultimately all work has to be done by the AAP government). If you vote for the Congress candidate, he will hardly be able to work for the area. If the BJP candidate wins, he will fight but can hardly get work done," Kejriwal said, while addressing a Gaon Panchayat in Bawana on Sunday.
The BJP has fielded Ved Parkash in the bypoll, who will go up against former three-time Congress legislator Surender Kumar and AAP's Ramchandra.
Having a rural character, Bawana, one of the 12 reserved constituencies in 70-member Delhi assembly, is dotted with 26 villages, unauthorised colonies and jj clusters.
Kejriwal, while trying to woo rural voters on Sunday, said that no other government has focussed on development of rural areas of the city as much as the AAP.
The chief minister counted the "highest" ever compensation to farmers and increase in circle rate of farmland as some achievements of his government.
"I made Kailash Gehlot a minister because he comes from Delhi dehat and only a person from the rural area can appreciate the local problems," Kejriwal said.
"He has been given two departments which are critical to the growth of rural Delhi — revenue and transport. Now he can solve problems, be it related to section 81, section 74(4), lal dora or anything related to it. I have directed him to bring all issues before the Cabinet and get them cleared. The transport department is also procuring 2000 buses, majority of which will be deployed in the rural belt," he added.
Adding to the development pitch, labour minister and AAP (Delhi) convenor Gopal Rai said the AAP government has provided Rs 208 crore fund for the constituency and it will continue to do so.
"People can file RTI and get details about the devlopment funds allocated to Bawana. Under the Swaraj fund, Bawana was chosen as one of the 11 Assembly seats which were to be devloped as a model constituency," Rai said.
Terming BJP candidate Parkash a 'traitor' who cheated 1.8 lakh voters who voted for him in 2015 assembly elections, Rai appealed the voters to grant him 'exemplary punishment' by ensuring heavy defeat.
Close Story