Civic bodies buy e-cars,to set up charging stations
South corporation and NDMC will have 155 electric cars for official use to encourage Delhiites to switch to green automobiles, establish 77 charging points across city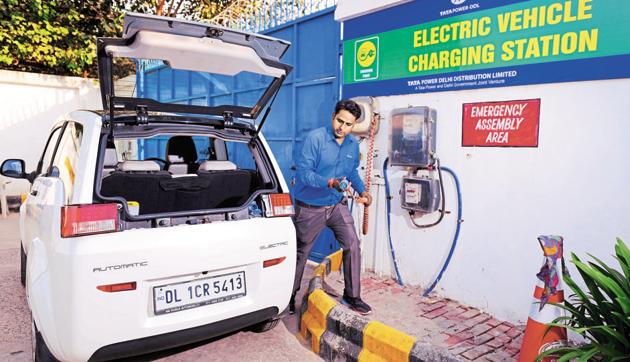 Updated on Mar 04, 2018 11:05 PM IST
New Delhi: Keeping with the Centre's ambitious plan to switch to electric vehicles by 2030, the South Delhi Municipal Corporation will launch the first lot of 32 electric cars on Monday. The second lot comprising of 43 vehicles will come by March end.
To encourage the use of electric vehicles in the city, civic agencies are also establishing electric charging stations at multiple locations.
In phase 1, the stations are being established for the official vehicles, which will procured by March end and in phase 2, similar facilities will be developed for private vehicles by the end of 2018.
Both the New Delhi Municipal Council and SDMC aim to set up at least 30 charging stations for public vehicles. The move has been appreciated by the experts, but they find the numbers too less to motivate Delhiites to switch to green automobiles.
Also, lack of clear-cut policy on establishing electric stations, no fixing of responsibility for supplying such vehicles at cheaper cost, providing infrastructure and participation of private players to reach wider audience are other areas which need to be worked upon to get results, said Kamal Soi, member of National Road Safety Council.
NDMC's project
The NDMC will procure 80 electric vehicles by mid-March. It has installed 37 charging points at Palika Kendra, Talkatora Stadium, Vidyut Bhawan at Dr APJ Abdul Kalam Road and auto workshop at Laxmi Bai Nagar and Shivaji Stadium for 80 electric vehicles that will be procured by mid-March.
These 37 chargers consist of 28 alternating current (AC) and nine direct current (DC) chargers. While AC charger takes three-five hours to get the vehicle fully charged and cost around ₹85,000, DC charger will do the needful within one and half hours and cost around ₹3.9 lakh.
"We have procured two electric vehicles and the work order for balance 78 has been given to the Energy Efficiency Solution Limited (EESL). The supply of these vehicles is likely to be received by second week of March," said a senior NDMC official.
Under its smart city project, the NDMC is targeting to install 10 such charging stations till 2018 end for public transport vehicles.
"Considering the future business potential of the project, decision has been taken by the council to establish stations for general public. It will be cost effective and a viable solution to the problem of poor air quality," said senior NDMC official.
As per source, the sites near Gole Market, Khan Market, Sarojini Nagar, Moti Bagh, Laxmi Bai Nagar and Chanakyapuri areas are likely to be finalised for stations.
South Corporation's plan
SDMC will procure a total of 75 electric vehicles. "For them, we have set up 40 charging points at Ambedkar Stadium, all four zonal offices at Green Park, Lajpat Nagar, Najafgarh and Dwarka, SDMC's headquarters in Civic Centre (Basement 3), and other places," said Shikha Rai, leader of house, SDMC.
"As per the Delhi Electric Regulatory Authority regulations, the energy consumption charges will be reduced (from ₹ 7-₹5 per unit) on commercial connections, if the user provides proper documents to power discoms about its usage for charging electric vehicles," said SDMC official.
Although the civic agency had announced establishment of over 100 charging stations in its budget for private vehicles, the project has slowed down for various reasons. "We will observe the success rate of this project first and then make plan for developing more such facilities," said Rai.
Status of electric stations so far
Discom Tata Power Delhi Distribution Limited (TPDDL) had set up five charging points in North Delhi Civil Lines area. However, it received a tepid response.
"The problem is that e-vehicles are still not popular in Delhi and the concept is still new. There are not many models of even two wheelers, leave alone four wheelers, for people to choose from," said a discom official.
Besides, another problem is that the cost of private electric vehicles continues to be high.
As a result, most of the electric vehicles that are sold are those through which one can earn revenue, like e-rickshaws. Delhi has over a lakh e-rickshaws, and majority of them charge their three-wheelers through domestic connections. This was illegal until the Delhi Electricity Regulatory Commission (DERC) last year legalised electric charging through domestic connection.
Experts' take
Delhi has a total 10.4 million registered vehicles including 3.15 million cars, 6.7 million two-wheelers, 38,285 buses and 174,000 auto-rickshaws as per Delhi Government's transport department.
"Of the total, number of electric vehicles would be in few thousands. There are just 10 charging stations in city (run by a private company) which are insufficient," said Kamal Soi from National Road Safety Council.
"Unless, the government draft a clear cut policy and involve private players, provide them commercial connections at subsidised rates in lieu of establishing charging stations, project will never be successful," he said.
Nagpur has already set an example by converting all taxi into e-taxis and providing sufficient charging stations, said Soi.
There is no policy or roadmap for implementing the Government of India's project for replacing the diesel or petrol vehicles with electric ones, said Amit Bhatt, director, Integrated Urban Transport, World Resources Institute.
"It would be important to cover them all in a phased manner under one policy and to start with, government can focus on replacing the public transport vehicles with electric vehicles. Because they run for over 150-200 km in a day and can easily recover the cost of electric vehicles, which is much higher than vehicles running with diesel or petrol," said Bhatt.
After that, replacing shared and government vehicles with electric one can proved to be more cost effective, he said further.
Close Story