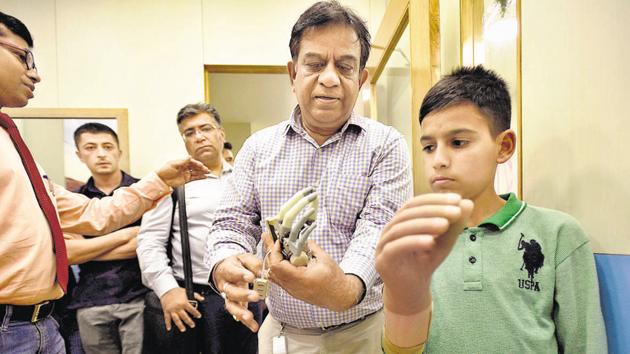 Customised high-end prosthetics that don't burn a hole in your pocket
High-tech customised prosthetics for amputees are now available in India at half the price of imported ones that cost upwards of Rs 1.5 lakh. The makers use expensive 3-D printing technology to get the right shape and fit of the limb
Hindustan Times | By HT Correspondent
UPDATED ON APR 04, 2018 04:21 PM IST
New Delhi
High-tech customised prosthetics for amputees are now available in India at half the price of imported ones that cost upwards of Rs 1.5 lakh.
"We are launching India's first myoelectric hand, which is controlled by electrical properties of muscles and has thumb rotation and it will cost for less than half the price than branded multinational companies," says Neeraj Saxena, director, P&O International Pvt. Ltd.
"Not just hands, we develop artificial feet, legs and blades using the advanced technology at affordable prices so it doesn't burn a hole in the pocket of amputees," he said.
The makers use expensive 3-D printing technology to get the right shape and fit of the limb. "It would usually take two to three days to have the limb ready in the old fashioned way, but through the 3-D printing technology we get the measurements and make tweaks on computer in a matter of 3 hours," says Saxena.
With this technology, the limb is customised according to the client's requirements, which significantly improves performance.
Sangeeta Vishnoi, 27, who has won two silver medals in the recent National Para Athletic Championships, attributes her improved performance to a better quality prosthetic. Her left leg is amputated from below the knee.
"I have been using the new blade for close to a year and it's quite comfortable. I even finished a 5-km marathon in Jodhpur in March this year without any inconvenience. Earlier, the normal prosthetic leg would lead to rashes, numbness of skin and even pain but not with this one," Vishnoi says.
Another para athlete Nisha Thakur, 22, says that she completed two 5-km marathons and one 10-km marathon run with the new leg. "My activity levels are high and I needed this technology."
The limbs are available from as low as ₹40,000, but the cost keeps adding depending on the cosmetic changes one wants in the appearance of the limb.
"We have several varieties of silicone cover for the limbs that gives the limb a near natural appearance," says Saxena.
A major reason for cost reduction is less reliance on imported parts. Almost 70% of the parts used in making these prostheses are made in India.
"We have rehabilitated 15,000 persons, and get 10-15 new queries every day. We even get requests from overseas as provide the best quality and at affordable prices," says Saxena.
Doctors also endorse made-in-India products. "It is very useful provided quality is maintained. A quality-controlled prosthesis in India is the need of the hour," said Dr SKS Marya, chairman, bone and joint institute, Medanta Hospital.
Close