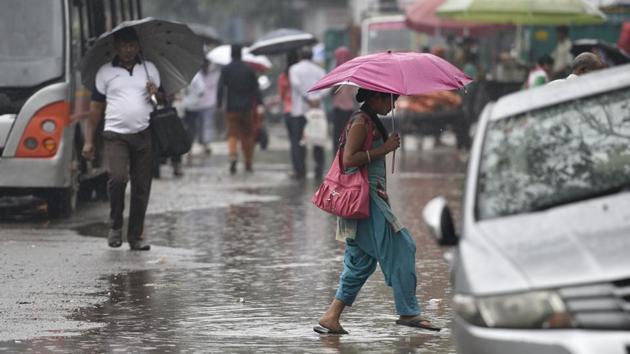 Delhi air quality turned 'good' due to rain, says Greenpeace
Greenpeace India said the improvement in air quality was a natural phenomena as rain washed out the dust particles.
UPDATED ON JUL 29, 2018 12:25 PM IST
Delhi's air quality turned "good" on Saturday for the first time this year due to continuous rains that washed away the pollutants in the air and not because the "source of pollution" has been addressed, global environmental group Greenpeace said on Sunday.
Greenpeace India said instead of being euphoric about few improved air quality days, the environment ministry along with Central Pollution Control Board (CPCB) should immediately enforce the National Clean Air Programme (NCAP) by setting up time-bound emission targets.
The ministry has prepared a draft NCAP with an objective to come up with a comprehensive plan for prevention, control and abatement of air pollution, and to augment the air quality monitoring network across the country.
"The 'so called' improvement in Delhi's air quality is governed by the meteorological factors, not by addressing the source of pollution. This much talk about improvement is a natural phenomena as rain washes out the dust particles leading to improved air quality," said Sunil Dahiya, senior campaigner Greenpeace India.
"This is momentary to have few clean air days. The fact is that air pollution is present all year around, irrespective of seasons. More comprehensive actions on sources of pollution are required for sustained clean air days," he said.
The Air Quality Index of New Delhi was recorded at 43 which falls under the "good" category. An AQI in the range of 0-50 is considered "Good", 51-100 "Satisfactory", 101-200 "Moderate", 201-300 "Poor", 301-400 "Very Poor" and 401-500 "Severe".
The PM10 level (presence of particles with diameter less than 10 mm) was recorded as "good" at 39 in Delhi-NCR and 32 in Delhi.
The PM2.5 level (presence of particles with diameter less than 2.5 mm) was 39 in Delhi-NCR and 21 in Delhi, according to the Central Pollution Control Board data.
"The government must realise that air pollution has become a health emergency not just for India but globally as well," Dahiya said.
"China has released its second clean air action plan, though it still has long way to go to solve its air pollution problem, the progress of the past few years shows what works: region-wide, time-bound targets that hold decision-makers accountable, strong emission standards and strong enforcement, as well as a shift away from polluting energy sources," he said.
He added that the draft version of NCAP had missed out on timelines, emission and sectoral targets, which has defeated the purpose to have an action plan.
Greenpeace India's Airpocalypse II report in May said Delhi still remains the top-most polluted city. Though a graded response action plan (GRAP) for Delhi-NCR region has been notified, the implementation of it remains disappointingly poor, the report said.
Close