Delhi police question 'self-styled godwoman' whose father installed 11 pipes at Burari home
According to police, Lalit Bhatia – who allegedly led the family to death – had recently met with Geeta, the 'self-styled god woman' and mason's daughter. Geeta however said she never met Bhatia.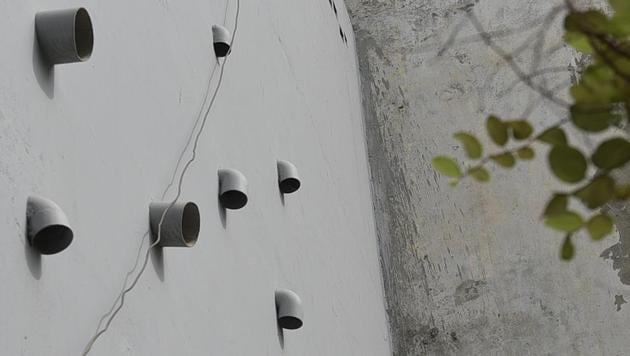 Updated on Jul 07, 2018 12:15 AM IST
Hindustan Times, New Delhi |
HT Correspondent
The Delhi police on Friday questioned a 35-year-old woman in connection with the Burari deaths after a news channel conducted a 'sting' operation on her, where she allegedly "confessed to pushing" the 11 members of the Bhatia family into committing suicide.
However, after questioning her, deputy commissioner of police (crime branch) Joy Tirkey said there was "nothing to suggest" that she was connected to the deaths. Taking the probe further, a police team Friday also took measurements of the house, its walls, balconies and terrace to know if an outsider could have entered at the time of the crime.
The woman, a mother of three, is the daughter of the contractor who was roped in by the Bhatia family for renovation of their home. The contractor had earlier dismissed the possibility of any thoughts behind fixing exactly 11 pipes protruding out of the Bhatia home.
In the 'sting', the journalists posed as patients to lure the woman into speaking to them. The news channel later termed the woman as an "alleged tantric" and claimed she said she was supposed to meet the Bhatia family a few days later.
The woman's father alleged that the journalists had "tricked" his daughter into speaking to them. "She prays a lot and people often visit her with ailments. She touches them and some find relief. But she is an innocent, illiterate woman and is not a tantric," said the father.
The woman later told another news outlet that she had nothing to do with the family and had not even met met them ever.
Meanwhile, on Friday, the neighbourhood also saw a news channel arrive with a 'baba' holding a stoup and broom. "The channel wanted to shoot a show here, but we shooed them away," said a resident of the area.
Topics
Close Story