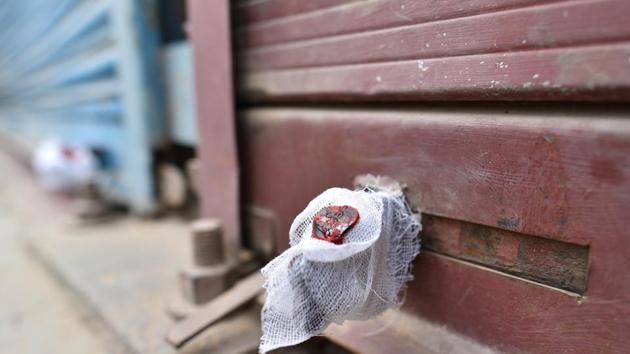 Delhi sealing: Huge relief for shop owners as govt slashes 'use conversion charges'
The revised 'use conversion charges' — for owners of shops in local shopping complexes to convert residential floors beyond first into commercial — would be
₹
22,274 per-square-metre instead of existing
₹
89,000 per-square-metre,
UPDATED ON DEC 29, 2017 11:41 PM IST
In what comes as a relief for thousands of shopkeepers in Delhi's markets, the Union government on Saturday reduced the charges to convert residential properties for commercial use to nearly one-fourth the current rate.
The revised 'use conversion charges' — for owners of shops in local shopping complexes to convert residential floors beyond first into commercial — would be ₹22,274 per-square-metre instead of existing ₹89,000 per-square-metre, according to a letter from Union ministry of housing and urban affairs to the Delhi Development Authority (DDA).
The decision comes on the heels of an on-going sealing drive by civic bodies under the supervision of a Supreme Court-appointed monitoring panel whose sealing powers were revived earlier this month. More than 50 business units, running from properties officially earmarked as residences without paying the 'use conversion charges', were sealed in Defence Colony market last week as part of the drive.
"The new rates would be applicable in all markets in top four categories (as per the circle rates). This was a proposal, which had been pending in the ministry since 2015," said DDA vice-chairman Udai Pratap Singh. The top four categories include several upscale markets in the city like Sarojini Nagar, Green Park Extension and Defence Colony among others.
The revised rates would be applicable till June 30 only for those units which have not changed the structure as approved by the competent authority, an official said.
In 2012, the DDA had raised conversion rates from ₹6,136 per-sq-metre to ₹89,000 per-sq-metre for 'A to D Category' markets as per circle rates fixed by Delhi government. For markets in categories 'E to G', the conversion rates were decided to ₹34,000 and for 'H Category', at ₹22,000.
The new rates would be applicable in all 80 local shopping complexes.
Conversion cases settled in 2012, however, would not be re-opened, the letter added.
AAP claims credit
The ruling Aam Aadmi Party (AAP) welcomed the development with its Malviya Nagar lawmaker Somnath Bharati sharing the letter on Twitter claiming that it was because of his efforts that the rates were reduced. He further claimed that "because of AAP MLAs, that SC monitoring committee has postponed the sealing drive to January 15."
"I, as member, DDA had raised this issue in 2015 n since then fought tooth and nail [sic]," Bharti said.
Meanwhile, AAP spokesperson Saurabh Bharadwaj said even the new rate was too high for the shopkeepers and should be waived off.
The SC-empowered committee, however, clarified that the drive was not been postponed. "We have instead extended the date of depositing the first instalment of 'use conversion charges' from December 31 to January 15 after requests from traders' associations," a member told Hindustan Times.
Meanwhile, the building department of South Delhi Municipal Corporation (SDMC) sealed 34 commercial outlets, most of them marble units, on Chhattarpur Bhati Road on the directions from the monitoring committee for flouting land use rules.
The sealing drive will not be carried out on Friday and Saturday but will resume in January, officials said.
Close