Eid-al-Adha: Prayers, donations for Kerala flood-hit precede over elaborate celebrations in Delhi
This Eid al-Adha, many Delhiites have decided to keep their celebrations low-key, so that they can donate as much as possible for those affected in Kerala floods.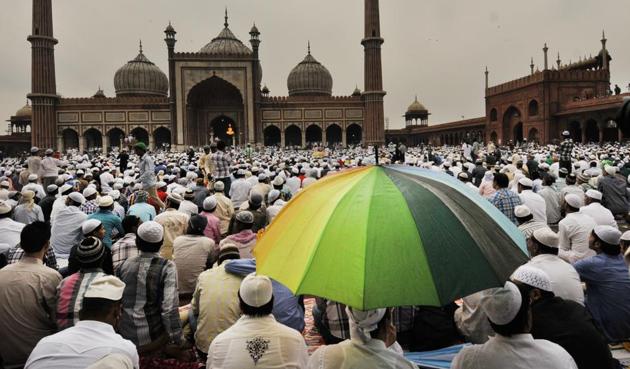 Updated on Aug 22, 2018 12:38 PM IST
In the time of festivities when Eid al-Adha brings forth the significance of sacrifice, residents of Delhi-NCR have decided to sacrifice elaborate merrymaking for the sake of humanity, to stand united with the people in the flood-hit state of Kerala.
"If everything is watery in Kerala, how can we celebrate here?" says Rana Safvi, Delhi-based author and historian. She shares that she hasn't been sacrificing animals for the past 15 years, and instead donates that money to an orphanage. "This year, my husband and I will donate for the survivors of Kerala floods. There are so many people who need help. If we don't sacrifice and donate the amount for charity, then who will? That's the least we can do," adds Safvi.
READ | Eid-al-Adha 2018: History and significance of Bakrid
There have been reports of some organisations encouraging people to donate a certain percentage of their Eid al-Adha budget for flood-hit Kerala. And, there are some who have decided to keep their celebrations low-key this year. These include Zaman Khan, lead guitarist of multi-genre band Astitva. "Every year I invite all my family and friends [over to my house]. There is a huge amount of foods such as mutton and korma cooked for them. We even send the food to homes of those who are unable to come over. But, all this will not be part of my Eid celebration this year because I want to use all that money to help Kerala flood victims. Even the eidi that I give to my friends and family every year will be added to my donations to the organisations who have been working for relief there. In past few days, I have been trying to raise awareness via my social media accounts, for people to come forward and donate as much as they can even if it's as little as Rs 10."
Kathak exponent Rani Khanam shares that she does not celebrate Eid with "much fanfare". This year, she has planned to donate money for relief via an NGO, but also has in mind to involve friends in the noble cause. "We [My friends and I] have been thinking to do something for those suffering due to Kerala floods. I'm happy that people have become aware about it through the internet."
READ | Eid Al-Adha 2018: 5 traditional recipes you need to make this Bakra Eid
The intention of most is to collect and donate whatever is possible. Abusufiyan, 27, a digital marketing strategist living in Old Delhi, says, "As part of the group Purani Dilli Walo ki Baatein, we conduct heritage walks in Old Delhi. Each walk costs Rs 500. After Eid, we plan to conduct heritage walks to collect money for Kerala relief fund. We'll keep the fee open to whatever people want to give. Also, during the Eid celebrations, we will put up camps to collect money for Kerala relief."
Storyteller and founder of Delhi Karavan, Asif Khan Dehlvi recently conducted a walk at Sanjay Van, and donated the money raised from it for relief. "My mother and I won't celebrate Eid at all this year. We will just pray and not sacrifice animal, and donate even that money for relief. Waqt badal gaya hai; karna hi hai sacrifice to apne paise sacrifice karein aur kisi ki help kar de (Times have changed; if you want to sacrifice, then sacrifice your money and help someone in need)," says Dehlvi.
Interact with the author at Twitter/@HennaRakheja
Topics
Close Story