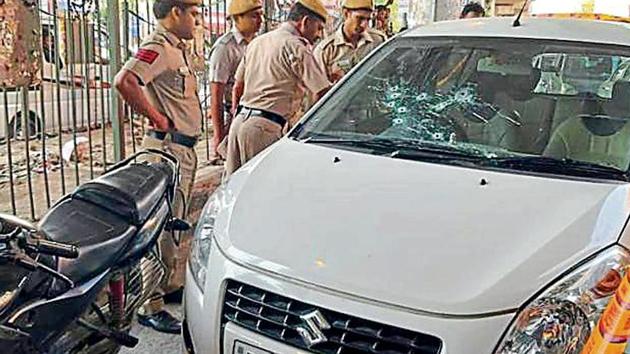 Two killed after gangsters stop traffic, shoot at rival on busy road in Dwarka
The gun battle comes just two days after another suspected gangwar in Rohini Sector 11, in which a man was chased by a group of people and shot multiple times.
Hindustan Times, New Delhi | By Shiv Sunny and Namita Singh
UPDATED ON MAY 20, 2019 11:25 AM IST
Two "notorious gangsters" were shot dead during a gangwar that broke out under the Dwarka Mod Metro station on the busy Najafgarh Road in west Delhi on Sunday afternoon, police said. The police added that one of the men was gunned down by an "alert" policeman.
More than 20 rounds were fired in the gun battle that saw traffic briefly coming to a standstill as members of one gang rained bullets on one of their rivals, Praveen Gehlot, who was seated in a car. Gehlot was shot at least 10 times, police said.
The gun battle comes just two days after another suspected gangwar in Rohini Sector 11, in which a man was chased by a group of people and shot multiple times.
The men killed in Sunday's gang war include Praveen Gehlot and Vikas Dalal, who were earlier members of a gang led by jailed gangster Manjeet Mahal. "But Gehlot and Dalal turned enemies due to some dispute over a property in Haryana," said a senior police officer.
Vikas Dalal carried a reward for his arrest and had nearly three dozen cases against him. He had escaped from Haryana police's custody in last October. Gehlot, allegedly involved in at least half-a-dozen criminal cases, had come out of jail recently.
The officer said that Dalal was in Goa with his girlfriend until recently and had come to Delhi only for killing Gehlot.
Accompanied by an aide in his grey Swift Dzire car and another on a motorcycle, Dalal allegedly chased Gehlot on the Najafgarh Road from Uttam Nagar towards Najafgarh. According to the police, Gehlot was alone in a white Maruti Ritz car.
"Dalal caught up with Gehlot's car under the Dwarka Mod Metro station a little after 3.45pm, but not before ramming a Hyundai Verna car along the way," said Madhup Tiwari, joint commissioner of police (western range).
The Verna owner had tried to confront the assailants, but backed off on realising what was about to unfold, Tiwari said, adding that his claims were being verified.
Also read | Unaware of murder, man sleeps on bed with body of his driver's wife hidden in storage in Gurugram
The three attackers then used pistols to fire multiple rounds at Gehlot's the car, an act that was caught on camera. There were at least 11 bullet holes on the Ritz car, but an investigator said more rounds could have been fired of which 10 found their mark.
A video captured at the scene showed mini trucks and buses waiting behind the two cars as the three men, including one in a helmet, got close to the Ritz car and fired at it. Another video showed some people panicking, others watching from behind metro pillars, while a few others recorded videos on their mobile phones.
The shooting unfolded on a stretch of road that had a PCR van stationed on the other side. "The sound of gunshots caught the attention of the PCR staff and a constable, Naresh, decided to take on the criminals," said Tiwari. "Constable Naresh jumped across the road divider and challenged the attackers. One of them, who later turned out to be Dalal, responded by firing in his direction. Reacting in self defence, the policeman used his gun to fire three rounds at Dalal," said Tiwari.
Dalal was hit at least twice and collapsed on the road. He was rushed to two different hospitals, but succumbed. A video accessed by HT couldn't establish whether Dalal was killed in police firing or in retaliatory shots from inside the Ritz car, but joint commissioner Tiwari insisted that no weapon was found in the car or in possession of the Gehlot.
An eyewitness in the video clip said he had seen a policeman take on the assailants. "The policeman fired the rounds and took cover behind a Metro pillar. Two of the killers checked on their dying friend before driving away, without being challenged," said the eyewitness .
Police said that it wasn't practically possible for the PCR van on the other side of the road to launch a chase and the assailants possibly used one of the many bylanes in the area to get away.
Also read | Inside story of how drugs factory running from IPS officer's house in Greater Noida was busted
Close