Gutkha, pan masala wrappers choking Delhi drains, causing waterlogging
Updated on Jul 31, 2018 09:04 AM IST
Experts say gutkha packets cause more harm to environment than regular plastic waste because they can't be recycled and thus are not even picked by ragpickers.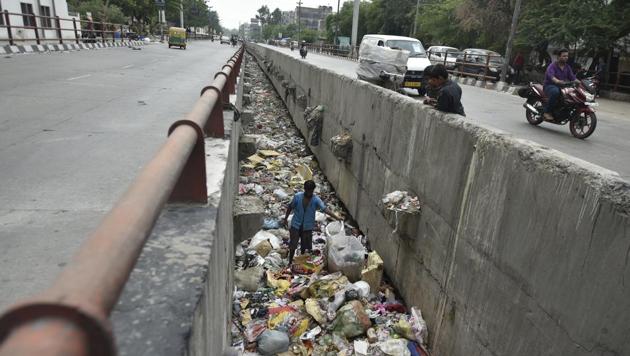 More than one-fifth of the silt that clogs Delhi's drains during the Monsoon months, leading to waterlogging and traffic jams, is made up of empty gutkha and pan masala packets, according to a study by urban planners from Indian Institute of Technology (IIT)-Kharagpur.
The three researchers, who surveyed drains in the Capital for the last two weeks, found that 22% of the silt in drains caused by gutkha and pan masala packets. The survey also found that 27% of it was from plastic bags and plastic film, 39% from paper and other soluble waste, and the remaining 12% from dust, leaves and twigs.
"Most drains in Delhi look like mini gutkha factories. These wrappers are more harmful than regular plastic bags because they're thicker. During rain, packs that are thrown on roadsides get carried to the mouths of the drains and block the passage of water," said TS Ramachandran, professor in urban design and road management at IIT-Kharagpur.
Ramachandran said he and his fellow researches — Pravin Nath and Prasanth Kumar — surveyed 35 arterial roads between July 2 and July 15. The silt deposited in the mouths of the drains was collected, segregated and weighed to study the reasons for flooding on Delhi's roads. "We collected 40kg of packaging waste, and the pan masala wrappers constituted a major share of it. When the mouth of the drain is blocked, water is unable to seep through it, even if it has the capacity to sieve out water," he said.
Delhi experienced major flooding on July 13 and 16, in which two DTC buses submerged in water and passengers had to be rescued. Cases of severe traffic snarls and road cave-ins due to waterlogging were also reported.
Other experts agreed that multilayer packaging, such as that used in gutkha, pan masala and snack wrappers, causes more harm to the environment as compared with regular plastic waste because of its non-recyclable properties. "Since these cannot be recycled, they have zero value, and stay as litter on roadsides. The informal sector of waste pickers also does not pick them up," said Swati Singh Sambyal, a specialist in municipal waste management at the Centre for Science and Environment (CSE).
Municipal agencies said that they have been trying to find a solution to the problem of plastic waste being dumped in the bell mouths (opening of the drain shaped like a bell) and into storm water drains that reduces the discharge capacity of drains.
"This blockage delays the clearance of water from the roads, which in turn causes the roads to be flooded even with a few minutes of rain. The agency and the Delhi government has been talking about mechanised sweeping techniques to clear the sides of the roads to avoid such instances," said a senior official of the south Delhi municipal corporation (SDMC) who asked not to be named.
Personalise your news feed. Follow trending topics