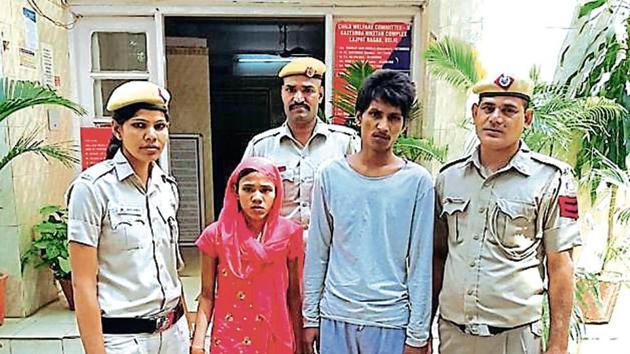 Husband, wife held for snatching, thefts in Delhi
Vicky and Sonia are school dropouts and studied up to the seventh standard. They grew up in the same neighbourhood, police said.
UPDATED ON SEP 20, 2018 09:16 AM IST
A married couple, both school dropouts, have been arrested for a series of thefts and snatching incidents in southeast Delhi. They used to snatch and steal mobile phones and gold chains.
The couple was caught red-handed on Tuesday morning while fleeing on a stolen motorcycle after snatching a man's mobile phone in southeast Delhi's Govindpuri, police said.
They were identified as Vikram alias Vicky (24) and his wife as Sonia (20), both residents of Navjeevan Camp in Govindpuri. Police alleged the couple was together involved in at least eight cases.
Police said Vicky rode the bike while Sonia, who rode pillion, snatched the cell phones.
In the latest incident, Shubham, a resident of the same neighbourhood, was walking to his office while talking on his phone around 9.30 am.
The moment he reached Kohinoor Apartment in Kalkaji Extension, a man riding a bike with a woman behind snatched his mobile phone, Shubham told police.
"Shubham raised an alarm, which alerted a police patrolling team. The team chased the bike and apprehended the couple. Both of them were arrested. On verification, the motorcycle used in the crime was found to be stolen from Govindpuri," deputy commissioner of police (southeast) Chinmoy Biswal said.
The DCP said, during interrogation, Vicky said he is a school dropout and had studied till class 8. "He said he used to work as a bus cleaner but resorted to crime to earn quick money. He was previously arrested in nine cases of snatching and theft," he said.
Vicky said his wife is his partner in crime. "Sonia is also a school dropout and studied up to the 7th standard. They grew up in the same neighbourhood and used to like each other. They tied the knot just about 6-7 months ago. Vicky said he used to commit crimes even after marriage and was arrested in a snatching case in Kalkaji. He was released from jail in July this year after which his wife joined him in his criminal activities," the DCP said.
Police said the couple claimed they had stolen a bike from Govindpuri and used it for snatching and shoplifting.
"They are also involved in motor vehicle thefts. While Vicky used to ride the bike, his wife used to snatch mobile phones. The couple then used to dispose of the stolen bikes and snatched phones to their receivers or to random passersby. With the arrest of the couple, eight cases of snatching and theft have been solved," Biswal said.
Close