Magenta Line inauguration: Not inviting Kejriwal insult of Delhi people, says Sisodia
Updated on Dec 25, 2017 11:48 PM IST
The deputy chief minister said Arvind Kejriwal was not invited out of the fear that he might publicly urge the prime minister to roll back the Delhi metro's fare hike.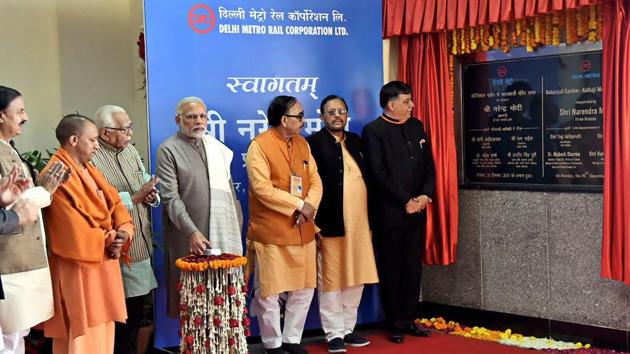 Upset that Delhi chief minister Arvind Kejriwal was not invited to the launch of Delhi Metro's Magenta Line on Monday, senior AAP leader and Delhi deputy CM Manish Sisodia called it an "insult" to the people of Delhi. He said it was an attempt to prevent Kejriwal from demanding a rollback of the hike in Metro fares from a public platform.
"Not calling the Delhi chief minister in the inauguration of the Delhi Metro is an insult to the people of Delhi. There's only one reason for not calling — they are afraid that Kejriwal would ask the Prime Minister to reduce the Metro fares for the people," Sisodia tweeted on Monday.
The Metro fare hike implemented in October had become a flashpoint between the Delhi government and the Union government with the former even launching an agitation against the hike. Metro fares were revised twice in a span of six months. Kejirwal, while terming the hike "anti-people", had been demanding a rollback since.
Prime Minister Narendra Modi inaugurated the Magenta Line at Botanical Garden Metro station, which brings parts of south Delhi closer to Noida by at least 30 minutes, in presence of Uttar Pradesh chief minister, Yogi Adityanath, UP governor Ram Naik, among others on Monday.
"Among nine station of the Magenta Line, seven fall in Delhi and Delhi government shared half of the money with DMRC and they invited everyone except the Delhi CM," said Dilip Pandey, AAP spokesperson.
"PM Modi's contempt for democratically elected CM by excluding him from a major infra project inauguration is trivial and political, which we don't mind anymore. Instead, we urge PM Modi to announce reduction in Delhi Metro fares in tomorrow's inauguration," tweeted AAP leader, Raghav Chadha.
Even party dissenters like Yogendra Yadav, spoke against not inviting Kejriwal to the launch. "Fair point. Very poor form to ignore the elected CM of Delhi," Yadav tweeted in agreement with a tweet that questioned the move.
The Delhi unit of BJP lashed out Kejriwal for creating controversy over the invitation while asking the CM to explain why the work on the same line was delayed. "Delhi Metro's fourth phase is also running behind schedule due to state government's financial non-cooperation. The Arvind Kejriwal government, instead of trying to create controversy over an inauguration invite should come clean on why it delayed the third and fourth phase of Delhi Metro," said Delhi BJP Spokesperson Praveen Shankar Kapoor.